Crouching Tiger, Hidden Dragon
(2001)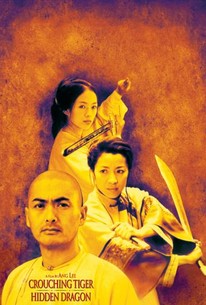 TOMATOMETER
AUDIENCE SCORE
Critic Consensus: The movie that catapulted Ang Lee into the ranks of upper echelon Hollywood filmmakers, Crouching Tiger, Hidden Dragon features a deft mix of amazing martial arts battles, beautiful scenery, and tasteful drama.
Crouching Tiger, Hidden Dragon Videos
Crouching Tiger, Hidden Dragon Photos
Movie Info
Taiwanese filmmaker Ang Lee took a break from making Western period dramas to fashion this wild and woolly martial arts spectacular featuring special effects and action sequences courtesy of the choreographer of The Matrix (1999), Yuen Woo Ping. In the early 19th century, martial arts master Li Mu Bai (Chow Yun-Fat) is about to retire and enter a life of meditation, though he quietly longs to avenge the death of his master, who was killed by Jade Fox (Cheng Pei-pei). He gives his sword, a fabled 400-year-old weapon known as Green Destiny, to his friend, fellow martial arts wizard and secret love Yu Shu Lien (Michelle Yeoh), so that she may deliver it to Sir Te (Sihung Lung). Upon arrival in Peking, Yu happens upon Jen (Zhang Ziyi), a vivacious, willful politician's daughter. That night, a mysterious masked thief swipes Green Destiny, with Yu in hot pursuit -- resulting in the first of several martial arts action set pieces during the film. Li arrives in Beijing and eventually discovers that Jen is not only the masked thief but is also in cahoots with the evil Jade. In spite of this, Li sees great talent in Jen as a fighter and offers to school her in the finer points of martial arts and selflessness, an offer that Jen promptly rebukes. This film was first screened to much acclaim at the 2000 Cannes, Toronto, and New York film festivals and became a favorite when Academy Awards nominations were announced in 2001: Tiger snagged ten nods and later secured four wins for Best Cinematography, Score, Art Direction, and Foreign Language Film. ~ Jonathan Crow, Rovi
Critic Reviews for Crouching Tiger, Hidden Dragon
Audience Reviews for Crouching Tiger, Hidden Dragon
Words are not enough for me to express how much I adore this film - a deeply poetic, romantic and compelling experience that has a fantastic cast, a wonderful dialogue, one hell of a great direction and some of the most amazing martial arts scenes I have ever seen in a movie.
Carlos Magalhães
Super Reviewer
½
One of the traps with reviewing cinema outside of the Hollywood mainstream is assuming that difference equates to higher quality. We're so used to the American approach to storytelling and characterisation, with Hollywood-style films being made all over the world, that the second someone comes along with a slightly different approach, we assume that it must have some greater value. This over-valuing can lead to greater misconceptions about the cultures from which such films emanate, leading us to regard as paradigm-shifting art what said culture regards as derivative, third-rate trash. Crouching Tiger, Hidden Dragon came at a time when American audiences were starting to gain a new-found familiarity with 'Asian' or 'Eastern' cinema. Together with Spirited Away, it was a watershed for bringing Chinese, Japanese and Korean films to greater attention in the West. While you might have cause for debating exactly how ground-breaking it is within its given genre of wuxia, it is still a great film with a well-told story which finds director Ang Lee at the peak of his powers. I spoke about Lee's directorial style in my review of Life of Pi, for which he eventually won the Oscar for Best Director. With the possible exception of Hulk, Lee has always managed to strike an enviable balance between visual poetry and detailed characterisation. While the narratives in his films aren't always the most complex or profound, he has a knack of continually pulling us back toward the underlying story, where many lesser directors would get lost in the pyrotechnics. Whatever else is true about it, Crouching Tiger (as it will be known hereafter) is very pretty. Peter Pau, who won an Oscar for his cinematography, fills the screen with natural shades and then lights them in an almost ethereal manner. The way that the greens of the bamboo and Li Mu Bai's sword seem to shimmer beautifully reflects the dream-like quality of Lee's storytelling and the epic, melodramatic feel that he was going for. This is all the more extraordinary given that Pau previously lensed the horror-comedy Bride of Chucky and Warriors of Virtue, a tedious affair noted for its incoherent, blurry action scenes. Much of the appeal of martial arts films lies in their physicality and choreography. Many people who went to see Enter the Dragon weren't particularly interested in its story - they were simply taken in by how Bruce Lee could move in the fight scenes. Crouching Tiger benefits in this regard by the presence of Yuen Woo-Ping, the same man who choreographed The Matrix trilogy and later lent his talents to Kill Bill. While the Wachowskis were off experimenting with 'bullet-time', developing the work of Lee's contemporary John Woo, Crouching Tiger takes a more balletic approach. It treats its martial arts like an elaborate dance, in which the violence perpetrated by sword, dart or hand is as much an end in itself as a means towards a more elaborate series of steps. The film almost draws your attention to the fact that many of the moves being performed are physically impossible, prolonging the length of jumps and glides that could only be achieved by highly-skilled wire work. Of course, it's possible to appreciate the beauty of characters performing impossible stunts as an aesthetic exercise, such as the running and flying through the bamboo. But Lee manages to keep our disbelief suspended by investing so much time in the characters before the really outstanding fight scenes come along. Even if the story is painted in broad, epic strokes, it's strong enough and feels genuine enough that the dramatic scenes matter, whereas in a weaker film they would merely book-end the set-pieces. A good example of this comes in a conversation between Michelle Yeoh and Zhang Ziyi about halfway through the film. During a conversation about the latter's character getting married, Yeoh deliberately allows a small bowl or dish to fall from the table. Ziyi's character grabs it instantly in mid-air, preventing it from smashing on the floor and demonstrating her great reflexes, unintentionally and perhaps unconsciously. This small but impressive action confirms in Yeoh's mind her suspicions about the identity of the Green Destiny's thief - suspicions which we had entertained for some time, and which turn out to be correct. This example also illuminates the storytelling technique employed by Crouching Tiger. It is melodramatic, insofar as the characters operate within clearly-drawn archetypes and their character development is reasonably clear from the outset. We can probably guess that the love between Li Mu Bai and Yu Shu Lien is destined to be unrequited, just as the thief's identity can be quickly ascertained by the very deliberate close-up on the eyes. While the plot isn't exactly spelled out for the audience, it is possible to spot most of its major points before they occur. Many films at this point would fall apart because the characters aren't interesting or appealing enough to rise above their generic limitations - films like The Snows of Kilimanjaro, A Place in the Sun, or to a lesser extent Gojira. But Crouching Tiger uses its restrictions more proactively, using our foreknowledge to justify its emotional arcs all the more. Lee repeatedly uses very tight close-ups to force us to read into the characters' faces, and Zhang Ziyi in particular is very adept at making even the slightest smile or tiniest flicker of her eyes seem deeply meaningful. Crouching Tiger explores a number of interesting themes which bring a greater depth to these kinds of character interactions. One of its big themes is hidden talent, with talent either hiding in plain sight (Jen Yu) or taking every precaution to stay in the shadows (Jade Fox). The title of the film is a literal translation of the original Chinese, which properly translated refers to "a place full of talented and extraordinary people hidden from view." Within this is a comment on the manner in which women are underestimated or misjudged. Wuxia films incorporate many elements of chivalry, which traditionally depicts the male protagonists as heroes defending the honour of the women. Jen Yu and Yu Shu Lien both sword-fight, but the former consciously rebels against the accepted order, talking back to seasoned warriors like they were naughty schoolboys. The sequence where she lays waste to dozens of fighters in the inn (along with most of the inn itself) is much more empowering than anything that Tarantino has managed when he has dabbled in martial arts. The film also examines the dominance of teachers over their students, even when the student shows tremendous ability. Most of the characters have some kind of grudge or burden relating to their masters. Jade Fox was sexually assaulted by her master, which makes her bitter, twisted and hateful of all men. Jen Yu doesn't want to be anybody's servant, rebelling against Jade Fox and longing for the more equal and respectful relationship she enjoyed with Lo in the desert. Li Mu Bai's solemn demeanour comes from his vow to avenge his master's death, with his search for justice ultimately leading to his own untimely end. There is a recurring motif later in the film relating to poison. Poison is both the method used by Jade Fox to defeat Li Mu Bai and a symbol of her corrupting influence over the young Jen Yu. Li Mu Bai's desire for inner peace and clarity is in stark contrast to the chaotic, scrambled mind of Jade Fox; her actions are impulsive, desperate and cowardly, while his are controlled, effective and noble. It's a film about how passion can lead to destruction, whether by the hand of one's enemies or one's own choices. Jen Yu ends the film by diving off the waterfall, hoping to rejoin Lo; her passions have only brought her death and isolation from her friends, and she can no longer deal with either. Crouching Tiger, Hidden Dragon is a great film which successfully conveys the conventions of wuxia to a Western audience. While those more familiar with the genre may not find it quite so remarkable, it remains a gripping romantic epic with memorable characters, interesting themes and visual beauty to spare. It's also a great introduction to cinema outside the English language or the Hollywood sphere of influence, and essential viewing for anyone interested in martial arts.
Daniel Mumby
Super Reviewer
½
Ang Lee's Crouching Tiger, Hidden Dragon is a film that combines beautiful cinematography, romance, and tons of great action sequences. I haven't watched a whole lot of martial arts, or wuxia, films, but Crouching Tiger, Hidden Dragon makes me want to watch more films in the genre. Plus, I just started taking Tae Kwon Do classes so I guess that can be considered a requirement. The plot follows two warriors, Master Li Mu Bai and Yu Shu Lien, who must retrieve the legendary sword, Green Destiny, from the clutches of the notorious thief, Jade Fox. The warriors soon cross paths with Jen Yu, the teenage daughter of a nobleman with a secret. Jen soon finds the warrior in herself and teams up with the two warriors to get the Green Destiny back. There is also a subplot that explores Jen Yu's love life. Crouching Tiger, Hidden Dragon is a well crafted film. It does a good job developing the characters and story and is loaded with eye candy. The stuntwork in this films is incredible and the performances in the cast are great. It's a very stylistic film that includes a lot of substance and the two work out perfectly. When I sometimes think about martial arts movies, I get images in my head of a clichéd sensei or master giving wise zen quotes. The film avoids that and focuses more on the story than the martial arts. That's how I interpret the movie. This is a film that people interpret differently due to the ending. Trust me. Those final seconds of the movie are going to stick with you. The script is also fine. I love the dialogue during the romantic subplot. When Jen gets her freak on, they give her some pretty sassy dialogue. The performances in this movie are excellent. There is not one bad actor in this film. I watched the original Madarin dub. I saw a bit of the English dub and wasn't totally impressed. It dumbed down the acting in my opinion. While I enjoyed Michelle Yeoh and thought Chow Yun Fat was awesome, major kudos go to Zhang Ziyi as Jen. This movie kicked off her career. The only other thing I saw her in was Rush Hour 2 but she's been in many other Asian films after this. Anyways, I just loved her as an actress and also as a crush. She starts off as a curious teen and then becomes a great warrior. I'm a sucker for cat fights and she engages in one of the best in cinematic history. Also, the cinematography is exceptional. The landscapes are beautiful. It left me speechless and that's all I can say about it. The pacing started to bug me a little in the begining but toward the climax, it works very well. The romance suplot feels like an entirely different movie. It is also well developed throughout and makes an impact on the glouriously filmed final scene. Zhang Ziyi's chemistry with Chen Chang is perfect. Crouching Tiger, Hidden Dragon is a spectacular film with breathtaking cinematography, memorable performances, a thrilling plot, a great romance, and has amazing action sequences. I need to explore more Wuxia films like Bruce Lee's Enter the Dragon or Akira Kurosawa's Seven Samurai. Regarding Seven Samurai, I have an urge to see it but what seems to put me off is it's run time. I'll have to give it a try since it's a widely praised film. If you haven't seen Crouching Tiger, Hidden Dragon, get to it. You will be entralled by this epic. Thanks for reading my first review of 2012! "Now give yourself up and find yourself again."
Bentley Lyles
Super Reviewer
Crouching Tiger, Hidden Dragon Quotes
| | |
| --- | --- |
| Sir Te: | When it comes to emotions, even great heroes can be idiots. |
| | |
| --- | --- |
| Sir Te: | When will this end? They take it, they put it back, they take it again. My home is turning into a warehouse. |
| | |
| --- | --- |
| Yui Hsui Lien: | Mr Wong I have lost my travelers cheques |
| Yui Hsui Lien: | Mr. Wong, I have lost my travelers checks. |
| | |
| --- | --- |
| Li Mu Bai: | A sword by itself rules nothing. It only comes alive in skilled hands. |