The Crow
(1994)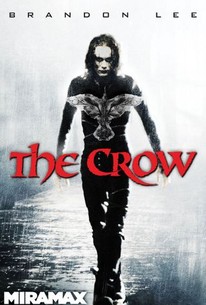 TOMATOMETER
AUDIENCE SCORE
Critic Consensus: Filled with style and dark, lurid energy, The Crow is an action-packed visual feast that also has a soul in the performance of the late Brandon Lee.
Movie Info
Based on the graphic novel by James O'Barr, this fantasy follows Eric Draven (Brandon Lee), a rock musician who is murdered along with his fiancée, Shelly (Sofia Shinas), by a group of marauding thugs who terrorize the decaying city in which they live. One year to the day after his death (which happens to be Devil's Night), a mystical crow appears at Eric's grave; Eric rises from the dead and, with the bird as his guide, goes on a mission to avenge himself against Top Dollar (Michael Wincott), the leader of the gang who killed him. Star Brandon Lee was killed while filming a scene in which he was shot with a shell from an improperly cleaned gun that was supposed to be loaded with blanks. Like his father, martial arts superstar Bruce Lee, Brandon was fated to enjoy his greatest popular success after his premature death. ~ Mark Deming, Rovi
News & Interviews for The Crow
Critic Reviews for The Crow
Audience Reviews for The Crow
½
Back in the day there weren't really very many comicbook movies, they existed but most were pretty poor or wasted opportunities. Richard Donner turned things around somewhat with his now iconic Superman movie in 1978; but it wasn't really until the late 80's that Tim Burton's surprisingly decent Batman movie literally changed the game for the genre. But despite that things still took time to actually change in a positive way. There were a few movies that weren't too bad and looked good (in some cases very good), but failed to really light up the box office or gain much interest after their release eg. Dick Tracy (1990), Darkman (1990) and The Rocketeer (1991). But putting basic comicbook movies aside, apart from Tim Burton's vision for Batman in 1989 there was literally no such thing as a gothic comicbook movie, it was virtually a new untapped genre. Tim Burton had certainly given cinema audiences a strong dose of gothic grandeur but no one had really seen a dark, gritty, violent, adult action movie in that visual style, yet. Then along came James O'Barr and his dark personal opus. In 1978 O'Barr's fiancée was killed by a drunk driver (two weeks before her 18th birthday) which left him virtually destroyed inside. A talented artist O'Barr began working on a personal creation in a way to cope with his loss. With the combination of his own grief and a local murder case in Detroit, [i]The Crow[/i] was born. The tale of young couple Eric and Shelley who are both murdered on their wedding night (Devils Night, the night before Halloween) by a vicious gang. One year later Eric is brought back from the grave by a mysterious supernatural crow, at the same time giving him powers of strength and invulnerability. Eric is seemingly granted the chance to exact revenge upon his killers so that both he and his fiancées soul can finally rest in peace. So lets look at the various differences between the Comic and the movie. Now whilst the movie was generally well directed and included almost everything from the original source material, there are many differences. But I must stress that whilst these differences are typically very Hollywood, they aren't necessarily bad. As a large plot alteration was basically somewhat required for the movie, this meant major changes to almost all the characters. This included most of the villains, some goodies, and the removal of some characters along with the inclusion of new ones. Firstly in the comic the entire murder of both Eric (no last name of Draven in the comic) and Shelley is nothing more than a random attack by the drug crazed gang. There is no purpose behind it and thusly Eric's story is pure and simple revenge, no other factors. In the comic there is also no head honcho running the show, its just a bunch of thugs. For the movie they had to add more romance and a narrative in the form of both Eric and Shelley fighting unlawful tenant eviction from their apartment (owned by Top Dollar) which leads to the fatal attack; and of course they had to add a big boss villain for Eric to showdown with. Of course its still not really that good because essentially...what does Top Dollar want to achieve? He just wants to see the city burn? And then?? Devils Night: The night before Halloween which the movie centres around and is often mentioned. In the comic Devils Night is not mentioned. Eric: In the comic Eric is clearly based more on the classic rocker look of the 80's, but fitter and more toned. He has a very stereotypical 80's rock hairstyle matched with a slightly anime look to the face. At times he also looks like a young jacked-up Rod Stewart. In the movie Eric Draven (Brandon Lee) has a very early 90's MTV music video vibe about him, mainly because it was the early 90's and that long black leather trench coat trend was started by this very movie. Its also interesting to note that in the comic there is no mention of Eric being a musician, playing the guitar. That seems to be another Hollywoodism to boost his ice cool sexual appeal. Tin-Tin: Visually he looks about the same in both the comic and the movie (an African American male). He is still the first to be killed by Eric in both the comic and movie, but by gunshot to the head I believe. In the movie they also gave him some more personality with the addition of being a knife wielding expert (played with aplomb by Laurence Mason). Top Dollar: In the comic this guy is just a regular gang member, a regular drug pusher. Again visually he looks about the same (a white male) apart from a beard in the comic. He is the second gang member to be killed by Eric in the comic, again via gunshot to the head. For the movie Top Dollar (Michael Wincott) has been promoted to the main crime boss and controls everything, including ordering the hit on Eric and Shelley's apartment. He's a white westerner with an obvious appreciation for Japanese culture judging by his samurai-esque hair and choice of weaponry. He is also a very clean cut dapper looking villain dressing in period styled attire complete with old fashioned officer boots. Tom Tom/Skank: Tom Tom does not appear in the movie, instead this character seems to have been combined with Skank. Where as in the comic Skank is not a part of T-Bird's crew, Tom Tom is. Skank is killed early on in the comic, after Tin-Tin and Top Dollar via decapitation. In the comic Skank looks very different to his movie counterpart, same gender and race but just very different. The movie version of Skank (Angel David) is basically a cowardly character. All mouth but weaker than the rest, possibly abused by the rest, used as bait by Top Dollar, and eventually tossed out of a window by Eric. Gideon: Again visually this character is similar in both comic and movie. Both are middle aged, tubby with facial hair. Only main difference is in the movie Gideon is bald (played by Jon Polito). This characters fate differs once again as in the comic Eric guns him down, where as Top Dollar executes him in the movie. Funboy: This character looks very similar when comparing the movie version (Michael Massee) to the comic. A white male with long flowing blonde hair. In terms of his fate, its similar but with varying degrees of impact. In the movie its quite a powerful scene with Eric also rescuing Sarah's mother Darla. In the comic Funboy regrets and shows remorse for his previous crimes. He offers Eric a deal that if he gives him T-Bird's location, Eric will allow him to commit suicide (fourth to die) by overdose instead of Eric killing him. T-Bird: This character displays the biggest change visually. In the comic he seems to be an African American male with long dreads, where as in the movie he's a short white male played by David Patrick Kelly. In both the comic and the movie T-Bird is the leader of the gang but in the comic he is the final character to die at the hands of Eric. Surprisingly, much like Tin-Tin and Top Dollar, T-Bird isn't as big of a character as he is in the movie. Overall all the villains in the comic are far more throwaway type characters than displayed in the movie; they are simply cannon fodder for Eric to slaughter. Then in the movie you also have Sgt. Albrecht (Ernie Hudson) who is a composite of two comic characters; namely Captain Hook and a nervous rookie beat cop. Top Dollar (in the movie) has a sexy sultry female sidekick called Myca (Bai Ling) who doesn't appear in the comic. This character is a little weird as Top Dollar refers to her as his half-sister yet he also seems to have an obvious sexual relationship with her so...kinky? Myca also seems to be some of dark oracle or witch, something which is never really fully explained but merely hinted at throughout the movie. The young girl in the comic who Eric befriends is called Sherri, in the movie its changed to Sarah. In the movie you have the henchman called Grange (Tony Todd), who was based on the character of Shelby the giant in the comic. And finally the mysterious Death-like character called the Skull Cowboy is completely absent from the movie except for a deleted scene. Its also worth noting that in the comic the actual crow is far more supernatural than in the movie. In the comic the crow not only leads Eric around but also talks to him, passes him information, goads him, berates him for dwelling on past memories etc...In the movie Eric simply follows the crow and occasionally sees what it sees, but no talking. The movie also introduced the notion that if the crow is killed, then whoever it raised from the dead can be injured or even killed again. As if the crow is merely a shield for each unsettled soul and its body. But how can you kill someone who's already dead? Unless their body (the shell) becomes mortal again which enables you to mortally wound it? Could the Crow take that persons soul to another body if needs be? This is a major plot issue that carries through into the sequel. Of course there are many more little Hollywood touches that are included simply to make the whole feature more appealing to a mass audience. Before Eric kills T-Bird in his rather nice 1973 Ford Thunderbird, there is an entirely pointless car chase with the cops. Despite Eric being invincible he allows himself to get his ass kicked and shot on numerous occasions just so we the audience think there might be a threat or risk to the protagonist. Eric ends up needing Albrecht's help throughout despite being invincible; again to give us a sense of risk, some human compassion amongst the carnage. The hugely over the top climax in the huge gothic cathedral that leads to a very over the top sword fight on its roof amongst its gothic gargoyles and spires. This also felt extremely ripped off from Tim Burton's Batman finale. And finally the fact that Top Dollar is now interested in the occult/supernatural and has a witch-like sidekick to help him try and unlock the crows powers. Again this gives us a sense of risk for the protagonist which was totally absent in the comic where Eric was unstoppable. For the most part the effects for this movie have admittedly not aged well (they weren't exactly great for the time). Whilst its nice that practical effects were used for a lot of the movie you can unfortunately see them very clearly. Various model/miniature shots of buildings and cityscapes do look pretty ropy in places, especially when live action (projection?) shots of cars were added to them (the fires look even worse because they did use projection technology for those). The big finale in the cathedral is an example of how the effects and sets did work effectively, but at the same time still a tad fake looking. The shadows and lighting helped in setting the mood but also in covering these obvious flaws. Hell in all honesty even Eric's grave and surrounding graveyard looks pretty hokey these days, looks totally plastic. The only images/sequences that still do look quite good are basically all the shots with the trained raven (yes raven, not a crow). These are all genuinely innovative and highly atmospheric despite being obvious superimposed shots with thick black lines around all the edges. Speaking of Eric, considering how early CGI effects were back in 1993/4 it is actually very impressive how the effects crew were able to superimpose Brandon Lee's face into certain shots. Lee had completed most of the required scenes needed but after his death rewrites and reshoots were needed. Using a body double strategically obscured by shadows the team merely slapped Lee's face on top of the body doubles face and kept the reveals minimal. For the most part the results being an effective quick glimpse which does look a little off-kilter but generally works fine. Other times the team had to use completely different footage of Lee and superimpose him against a totally different background. Eric breaking down in front of a broken mirror in his old apartment, and stumbling into said apartment for the first time were both entirely superimposed shots combined with CGI. Amazingly I never even knew this, never even noticed, which shows how good it was. Where as some practical effects might now look incredibly dated, the stunts and action were handled very well. There aren't that many blazing action scenes but what we do get is very satisfying. Each gangster takedown by Eric does deliver a sense of justice, you do feel vindication for both Eric and Shelley. Although they don't follow the source material 100% there is a nice sense of variation and imagination in these death sequences. There is one highly impressive shot of a stunt double taking the full force of an equally impressive explosion in the scene where Eric blows up Gideon's pawn shop. I'm genuinely not sure how this guy didn't get burnt in this shot. The main gun fight between Eric and various gang members in a dark dingy club is a highly vibrant and atmospheric sequence which is heightened by its accompanying thumping soundtrack. The blazing gun muzzles lighting up the gloomy room, the sparse lighting, the various baddies getting sliced diced and blown away by a frenzied Eric hellbent on revenge. Looking back the editing is a tad questionable as you can tell they chopped this sequence up (work print shows us how much they cut), but it does still work nicely. Alas the same can't be said for the helicopter chase sequence across the rooftops which really does highlight some terribly dated and obvious superimposed shots against model backgrounds. The Soundtrack: What can I say? One of the best movie soundtracks ever? Yep its up there. Back in the 90's there were a few things that nearly every young person into rock agreed on. [i]Nirvana[/i] were the dogs bollocks and you had to own 'The Crow' soundtrack. It was almost mandatory, the way things were. And frankly who could blame them, the tracks on this compilation are now almost as iconic as the movie itself. In fact most of these tracks are probably known as well as they are solely because of the movie. Admittedly at the time I didn't know who most of these bands were but most were instantly likeable and fit so well with the movie. They even had two bands ([i]Medicine[/i] and [i]My Life with the Thrill Kill Kult[/i]) cameo in the movie which sometimes can date a movie badly. Not here, somehow they just blend in perfectly as trashy acts in a scummy nightclub. Heck for a long time I didn't even know they were real bands. But not only is the soundtrack fantastic the score is also top notch. The calm yet haunting orchestral score that accompanies Eric throughout the movie is terrific; a beautifully emotional selection of pieces that really can bring a tear to your eye (considering the circumstances of the movie). The final curtain of the movie and fade out to Jane Siberry's [i]It Can't Rain all the Time[/i] still brings a lump to my throat. Brandon: Would this movie have such a cult status had Brandon not died? Well this is the million dollar question isn't it. In all honesty I would have to say no and I say this because, although its a morbid thing to say, the death of Brandon added to the supernatural vibe/element of this movie. I mean, you couldn't script it any better if you think about it, its almost like a horror story in itself. A movie about someone dying before their time only to come back from the grave to tie things up; and then at the same time in reality that exact incident occurs to the actor performing in the paranormal feature. Had this occurred in any old silly action/adventure flick then the whole scenario would be totally different. It was the nature of this specific film that made the difference. The final interviews with Brandon where he speaks about mortality merely serve to ramp up the eerie atmosphere tenfold. Unsurprisingly I do indeed consider this movie a cult classic. Lighting in a bottle. It was a game changer. A tour de force that came outta nowhere and kickstarted an entire genre and trend that stood the test of time. It positively dripped with gothic splendour and dark energy which even to this day many movies simply can't top. The movie is a totally different beast to the original comicbook but still manages to stand on its own offering an alternative (dare I say better) version. Yes you can argue that the movies plot is chock full of holes, makes no sense, and the characters are one dimensional. For instance Eric was just a regular guy before he died. But when he comes back from the dead he's suddenly an expert with all weapons, he can fight and perform various acrobatic moves. So the crow somehow gives you the power of being a martial arts military expert? And why the hell does Eric eventually have what looks like black bin liners and rope wrapped around him? Nevertheless, the movie virtually overcomes all of this simply through solid direction from Alex Proyas, great pace, terrific set pieces, a superb atmosphere, quality performances, and of course Lee who haunts every frame with his strong yet ethereal performance. The über intense brooding superhero in the darkness. You could almost compare this movie to 'Robocop' in the fact that it made such a lasting impact and many of its stars (the villains) seemed to disappear after the fact, apparently not capitalising on the hit. I do think the movie would still have been a classic had Brandon not died, but not on the same level. Changes were made after his death which changed the movie in the long run, was the movie better for that? I guess we may never know that, debatable. People seem to forget about this movie nowadays which I find incredible seeing as, along with Batman 89 and 'Blade', its easily one of the greatest comicbook movies ever made. Amazingly better than its source material in many ways. People talk about wanting good R rated comicbook flicks, yeah they already did that and this is it.
Phil Hubbs
Super Reviewer
½
A stylish, abnormally dark and dreary tale of a rock musician (the late Brandon Lee) who comes to life exactly a year after the death of he and his fiance in order to enact revenge on those that were responsible. What could have just been another forgettable, B-grade exploitation flick is enhanced by stunning visual flairs, as well as a rare passionate lead performance. It really is a shame Lee died before he got to see the final cut of this film, since he is simply sensational for every minute of its running time. Of course, it goes over-the-top throughout and its nihilistic, dystopian society that the original comic book painted starts to wear on one after a while, but these flaws are minor. If anything, see it for Lee's spirited performance, as well as some fantastic action scenes and some eye-popping visuals.
Dan Schultz
Super Reviewer
[img]http://images.rottentomatoes.com/images/user/icons/icon14.gif[/img]
Directors Cat
Super Reviewer
The Crow Quotes
| | |
| --- | --- |
| Eric Draven: | Is that gasoline I smell? |
| | |
| --- | --- |
| Gideon: | And you can choke on them you son of a bitch! |
| | |
| --- | --- |
| Skank: | [frantic upon seeing Eric's picture] That's him! That's him! But he looked different. He was all painted up white like some sort of dead whore! I've seen him! T-Bird, he sent me in some road beers, right? Then he took him away. But, I chased him down. And he flash fried T-bird to his fucking car! [puts his flask to the sky] Aww, T-Bird here's to you buddy! [drinks his flask] "Fire it up! Fire it up! Fire it up!" |
| Top Dollar: | [amused by Skank's behavior] Maybe we oughta just video tape this; play it back in slow motion. |
| | |
| --- | --- |
| Shelly: | I love you. |
| Eric Draven: | Say that again. |