The Crowd
(1928)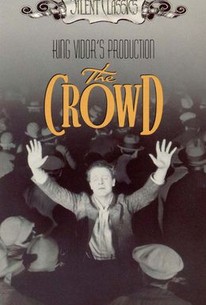 TOMATOMETER
AUDIENCE SCORE
Critic Consensus: King Vidor's dynamic direction brings expressionist style to the American Dream in The Crowd, a powerfully humanist picture about the struggle for self-actualization.
Movie Info
As was the case with every film project that he cared deeply about, filmmaker King Vidor had to fight long and hard with his studio bosses to get The Crowd produced. Though Vidor's parent studio MGM was certain that this simple story of everyday people would take a bath at the box-office, the film earned back twice its cost. The story concentrates on John Sims, brilliantly played by James Murray, an extra boosted to stardom by Vidor. Born on the fourth of July in the year 1900, John convinced that he's destined to be a man of importance. 27 years later, however, Sims is merely one of the faceless crowd, an underpaid clerk in a huge New York office building. On a blind date, John meets Mary (Eleanor Boardman), a likeable if not overly attractive young lady (Boardman, the wife of director Vidor, balked at the notion of departing from her usual glamorous roles; Vidor prevailed, and as a result the actress delivered what is now considered her finest performance). John and Mary are eventually married, raising two children in their tiny New York tenement (complete with a balky toilet-the first time that this particular bathroom fixture ever appeared in an American film). As John's dreams of glory go unfulfilled, he becomes bitter and argumentative, while Mary grows old before her time. Just when John wins $500 in a slogan contest, tragedy strikes unexpectedly when the Sims' youngest child is killed in a traffic accident. Haunted by the memory of his child, John is unable to function properly at his job, and is soon fired. In despair, Sims contemplates suicide, only to be shaken back to reality by his son, who, oblivious to John's grief and disillusionment, declares proudly that he wants to be just like his daddy when he grows up. By chance, John gets a job as a street huckster for a local department store. Though both John and Mary know that this "triumph" is transitory, at least the family is together again, and at least they're reasonably happy. As the camera pulls back, back, back in a packed movie theatre, we leave John Sims just where we found him-one of The Crowd. At the behest of MGM, Vidor reluctantly filmed an idiotic alternate ending, wherein the Sims family, having inherited a fortune, are seen living in the lap of luxury. This finale was hooted off the screen wherever it was shown; thus, current prints of the film contain Vidor's original, ambivalent ending. A deceptively "small" film, The Crowd was assembled on as large a budget and with as much production polish as any "big" MGM picture. In 1934, Vidor produced a sequel with his own funds, Our Daily Bread. Alas, James Murray, the actor catapulted to the Big Time in The Crowd, was not a part of the project. A headstrong, irresponsible man, Murray had squandered the chance offered him by Vidor, and had descended into drunken dereliction. Unlike the hero in The Crowd, there was no one to pull James Murray back when, in 1936, he fell off a pier and drowned. ~ Hal Erickson, Rovi
Critic Reviews for The Crowd
Audience Reviews for The Crowd
½
A film that still relates to us today. Not a fan of the silent era but this one I could endure. The acting is great and the story is done very well; it touches upon the many struggles that working Americans go through. Wouldn't watch this again, but I enjoyed it.
Eric Shankle
Super Reviewer
½
in the waning years of the silent era, king vidor showed us the dark side of the american dream in a film that still seems daring and modern after 85 years. the archetypal story of john and mary sims is anchored by some stunning camera work and a pair of powerful performances from james murray and eleanor boardman. james murray was plucked from anonymity to star as a man striving to break free from the crowd, the part of a lifetime, in which he performed magnificently. in some ways he never recovered from that experience and was reduced to the life of a homeless alcoholic. legend has it king vidor himself found him panhandling in the streets and offered him a job but murray turned it down. he drowned just a few years later after falling from a pier. what a pity, in this year of 'the artist', that the great american movie still isn't on dvd
Stella Dallas
Super Reviewer
½
King Vidor's The Crowd doesn't spend its time telling you a grand science fiction or horror story, but instead tells the simple tale of a man who becomes part of a family and goes to the edge and back with his family. It sounds very corny, I suppose, but Vidor makes it work so well. The film is full of incredibly visual storytelling and marvelous performances from both Eleanor Boardman (Vidor's wife at the time) and James Murray, who consequently had his only leading role in this film. The sad story about his personal life and how he came to a tragic end outside the confines of the film lends itself to his fantastic performance, and you feel genuine sympathy for him at all times. Sometimes overlooked and underappreciated, The Crowd will pull at your heart strings and keep you interested through every turn. It's a reminder that grand storytelling isn't always necessary and that visuals are always more important than dialogue.
Tim Salmons
Super Reviewer