Cruel & Unusual
(2014)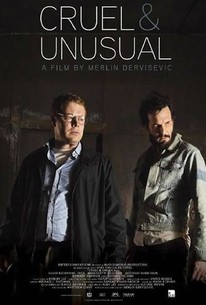 AUDIENCE SCORE
Critic Consensus: No consensus yet.
Movie Info
Wrongly condemned for killing his wife, a man finds himself in a mysterious institution where he is sentenced to relive her death for eternity.
Critic Reviews for Cruel & Unusual
All Critics (1) | Fresh (0) | Rotten (1)
The only thing missing is a deeper sense of esthetic to give this solid but difficult exercise an inner sense of purpose, even beauty.
May 22, 2014 | Rating: 2.5/5
Audience Reviews for Cruel & Unusual
This kinda feels like a Twilight Zone episode mixed in with some Groundhog Day but, you know what, it's obviously not a perfect film, but I liked this movie. Basically, Edgar accidentally murdered his wife, shortly before dying himself, he finds himself in this institution where he is forced to relive his wife's murder for eternity until he can come to terms with what he did and learn to live with it. Naturally, at first, Edgar wonders why he's in there as his wife's death was an accident and it was a situation where his wife poisoned him in the first place, which is what killed Edgar. So, really, the film is all about Edgar trying to put the pieces of what happened together, so he can achieve clarity, closure and maybe even escape from this hell that he finds himself in. While I liked this movie, I will admit that it doesn't really offer anything that you have not seen before. The film is put together from other works of art, both intentional and unintentional, and there's nothing wrong with that as long as they tell a story that's worth telling. And I felt that this was a story worth telling. Because there's a certain believability to seeing all the different angles of the same story and seeing how Edgar's actions throughout the day, really, led to his wife wanting to kill him. It wasn't something that was out of the blue, it was just something that had been building up. And it's believable in the sense that, realistically speaking, most people don't take the blame for what happens to them. And I don't mean victim-shaming in cases of murders or rapes, which is a reprehensible act. I just mean, I do, or say, X which leads to Y, but I only see my side of the story and not necessarily how my actions and words can affect others, whether positive or negative. And that's something that I can believe in. So I find it's a story worth telling because of that, because it does show a certain side of us that most would like to ignore. Again, the film has its flaws, like it's probably not as emotionally resonant as it probably wanted to be, but there's something to be said about doing something selfless and not necessarily because you want your own 'salvation'. At the end, Edgar's actions didn't only help his own family, it helped someone else's. I will admit, however, that this is a little forceful. Again, it tries to go for the emotion, but it never really clicked on a deeper level for me. It has some good ideas it wants to get across, but it didn't really work at establishing deeper connections between the families that Edgar's selfless action helped, even though it was supposed to. I will say, however, that the film benefits from some strong performances. I don't think I've seen David Richmond-Peck before, but I thought he was quite good in his role. The rest of the cast is quite good as well, so no complaints on that front. The film, obviously being low-budget, doesn't have the best cinematography on earth, but it wasn't really a bother. The film is about characters and not necessarily the details of how or why they're stuck in this hell, reliving their horrible actions every day. So I liked that. I don't really have much else to say however, I liked this movie. It's not perfect and it was threatening to become too confusing in its climax, but this is a perfectly solid low-budget film. Good performances and decent concept help carry this.
Jesse Ortega
Super Reviewer
Imagine having a bad dream, in which you see a loved one die at your hands. Only to wake up in some kind of asylum, not knowing what's real and what's inside of your own head. That is just one of the themes questioned in the new Sci-fi Thriller, Cruel & Unusual. This is one strange film, that will leave you questioning the nature of reality, but is it all that believable? The story is definitely unique, but has more than several appealing plot holes, that will leave you wondering if the movie was just lazy or beyond your comprehension. The film centers on Edger, played poorly by David Richmond-Peck. Are we really supposed to believe that this guy is capable of the temper or heroism his character is supposed to have displayed? Even less believable is that he's got a hot wife! Personally, I watched this strange film for Richard Harmon, best known as one of the stars of The 100. Harmon truly brings the words devilishly handsome to life, as behind that innocent face and crooked in smile, something sinister is always lurking, and that's what makes him so entertaining. The bottom line is that Cruel & Unusual is a weird film, that makes you think and can be frustrating at times. As a critic, I see massive holes in the story, but maybe, just maybe those were intentional, left to us to fill in the gaps, in which case, the film itself could be as smart and deep as it's plot.
Todd Smith
Super Reviewer
Cruel & Unusual Quotes
There are no approved quotes yet for this movie.