The Cruel Sea
(1953)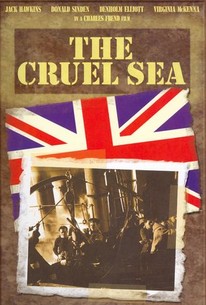 AUDIENCE SCORE
Critic Consensus: No consensus yet.
Movie Info
With the look and feel of a documentary, this riveting British WW II-set drama centers on the exploits of the Lt. Commander of a corvette, a small but speedy British Royal Navy warship. He is a man consumed with guilt after his ship, the Compass Rose is torpedoed by a U-boat, causing the deaths of many crewmen. Later he is on his new ship when he finds himself faced with a life and death situation upon the ruthless ocean. The plot is based on a novel by Nicholas Monsarrat.
Critic Reviews for The Cruel Sea
All Critics (4) | Top Critics (1) | Fresh (4) | Rotten (0) | DVD (2)
The character and actions of the seamen are told with a crispness that is a model of editing.
One is grateful nowadays for a film which does not attempt to depict war as anything but a tragic and bloody experience, and it is this quality which gives the production its final power to move.
Audience Reviews for The Cruel Sea
½
The Cruel Sea is a seafaring drama set during WWII, following an escort ship and its crew battling German U-boats. It's very much a film of its time; the propaganda element is heavy, the enemy unseen for the vast majority of the time, and it's full of stiff upper lipped officers throwing in with the working classes. For this reason, it seems very dated, and the scenes on shore consist of the usual kitchen sink soap opera melodrama. British stalwarts Jack Hawkins and Donald Sinden put in decent performances but it's lacking any real star presence and some ham fisted direction (particularly the voice over flashbacks) damages the film's authenticity. It is interesting to see the nuts and bolts of how such a ship was operated and the battle scenes are believably realistic, but I can't see this being of much interest to any but military historians and the nostalgic.
The Cruel Sea Quotes
There are no approved quotes yet for this movie.