Cruising
(1980)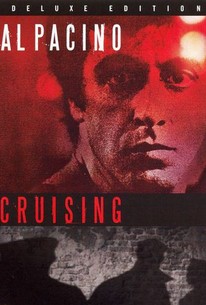 TOMATOMETER
AUDIENCE SCORE
Critic Consensus: Cruising glides along confidently thanks to filmmaking craft and Al Pacino's committed performance, but this hot-button thriller struggles to engage its subject matter sensitively or justify its brutality.
Movie Info
A New York City cop goes undercover in New York's gay community to catch a serial killer.
Critic Reviews for Cruising
Audience Reviews for Cruising
Interesting film -- if for no other reason than to see gay stereotypes from the late 1970s and early 1980s. Bold role for Paccino, played convincingly.
Christian C
Super Reviewer
½
With the 80's explosion of homosexuality in the mainstream, director William Friedkin set out to explore the tension that consumed New York during this time. How a fear of the "other" during this anxious period, so easily manifest itself as hate. Now, what I just described above, is fodder for a great film. Unfortunately, Friedkin's final product "Cruising", isn't that great film. It often forgoes the dark and compelling for the shocking and exploitative. Friedkin seems to lend as much grace and finesse to this subject that he clearly has a cursory knowledge of. Meaning of course, he lends incredibly little.What the viewer gets in essence is a clunky gay horror film in which a hesitant Pacino slowly becomes immersed in a seedy realm of the subversive gay world. It's filmed in such a way that it feels like a gay Rome, replete with an all-consuming plague like hedonism that is meant to appall. I mean, why else would Friedkin go to such lengths to make sure the viewer gets treated a nice long fisting scene? Friedkin cuts together shots of a knife being thrust into a man's back with others of a penis being plunged into a man's butt. It is hard to not feel like Friedkin is grimly equating murder with homosexuality. This is even furthered by a certain scene in which blood is seen spurting, ejaculating, on the screen in a theater that plays gay porn. The acts of these deviants are drenched in the blood of countless men. In fact, Friedkin seems so intent on wanting to shock that he ends up not really saying anything of substance. He really only succeeds in propagating stereotypes, fear, and that if a black man in a cowboy hat and jockstrap walks into a room with you, it would behoove you to walk out. I find Friedkin to be one of the more fascinating figures in American cinematic history. When he hits it, he cranks it out of the park. When he misses, he not only wastes a good opportunity, he also seems to throw his shoulder out in the process. It is no wonder that after a disaster like this, it has been an uphill battle just getting himself back in the game.
A compelling look at the gay underground in late 70's NYC, with a complex Pacino performance. Unfortunately, there is ample evidence of studio tinkering, especially towards the end when the whole thing simply falls apart. Too bad.
Cruising Quotes
There are no approved quotes yet for this movie.