Cruzando
(2009)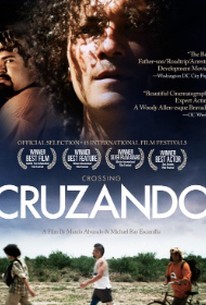 AUDIENCE SCORE
Critic Consensus: No consensus yet.
Movie Info
An expectant Latin American father races to cross the U.S. border to prevent his own father from being executed in this comedy drama from co-directors Mike Escamilla and Mando Alvarado. In just one week, Manuel will be a father. Upon learning that his father in Texas has been sentenced to capital punishment, however, Manuel feels compelled to try and get his beloved dad a reprieve. Though his wife voices her opposition to the idea, Manuel promptly quits his job at the local strip club, and enlists his best friend Diego as his right hand man. With his trusty video camera in hand, Diego begins documenting the journey as the thuggish bouncer from the strip club races to track Manuel down. Later, as Manuel and Diego seek a coyote to help them cross the border quickly, their adventure leads them to gain a greater appreciation for the things they have in life, rather than dwelling on the things they have always wished for.
Critic Reviews for Cruzando
There are no critic reviews yet for Cruzando. Keep checking Rotten Tomatoes for updates!
Audience Reviews for Cruzando
Over the years, stories of border crossings and immigrant dreams of a better life have become increasingly popular. But they certainly have not become a dime-a-dozen. Their messages of hope in the face of insurmountable adversity is ever-present and ever-relevant in a world where living among and toleratig people different from ourselves is the norm. Cruzando is a film that explores the relatively sweeter side of coming to America. This is in contrast to recent fare lilke the brutally arresting Sin Nombre which explores the darker, deadlier side of the danger Central American immigrants face. In Cruzando provides a balanced look at a very specific reason for which someone would choose (or be forced) to visit the U.S. Meme is a young man who has grown up without his father. His vague recollections of time spent with the man are just that: vague. He knows that his father left to make a better life for himself--but Meme was forgotten along the way. Flash forward a couple of decades and his father now facing execution in a Texas prison. Word get to Meme; and he is forced to make a life-changing decision. The catch is that Meme is now facing fatherhood himself. He must decide whether witnessing the death of the man who abandoned him is more important that being present for the birth of the son he is now abandoning. What ensues is a harrowing tale determination, the will to persevere and friendship--as Meme brings his best pal Diego along for moral support (and comic relief for the audience.) Cruzando ultimately feels a litte bit empty as it lacks a well-known cast and a broader, more epic scope. But the story itself is one that should be played intimately--and in that regard, the film succeeds briliantly. It showcases the hardships faced by the less-fortunate immigrants without implying that these are hardships which the immigrants are too cowardly to own-up to. Eventually, the man's decision is redeemed by a return to what is truly important to all of us. Home.
Rico Zamora
Super Reviewer
Cruzando Quotes
There are no approved quotes yet for this movie.