Evil Angels (A Cry in the Dark)
(1988)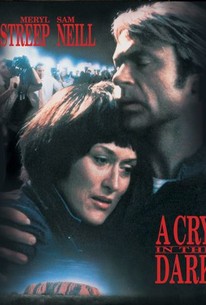 Evil Angels (A Cry in the Dark) Photos
Movie Info
While visiting Ayers Rock in the Australian outback, a woman sees a dingo sneaking into the tent where her baby is sleeping. Seconds later she discovers the child gone. In spite of her insistence that the dingo killed the child, she is eventually charged with murder.
Critic Reviews for Evil Angels (A Cry in the Dark)
Audience Reviews for Evil Angels (A Cry in the Dark)
½
"The dingo's got my baby!" I can't recollect how I stumbled upon this flick. But besides the above quote, a few other things tempted me to go for it: --> its title (Evil Angels) --> that it's based on true story --> its IMDb Rating --> its genre --> somewhere while browsing its IMDb page, I read "miscarriage of justice," which apparently is my area of interest --> that it stars Meryl Streep While a couple is on a vacation with their 3 children at Ayers Rock, their 10 weeks old baby disappears one night. The mother of the baby, Lindy Chamberlain, claims that a dingo took her baby. As bizarre as it sounds, some people find it quite hard to believe, & after a bit of police investigation, she ends up being accused for the murder of her child. What follows is what you should check out for yourself. The movie kinda tries to expose how media, at times, uses facts as per its convenience to boost its sales/viewership. It also shows how, as it often happens, someone's misery is merely a gossip tool for the public & how the speculations & rumors can sometimes cloud the judgments. While I appreciate its intent, somehow, I didn't find the movie that effective overall. It's good, but it could have been better than this. Was it made in a rush (taking into consideration that the final judgment was passed on September 15, 1988)? The execution wasn't quite up to the mark. Another thing that I found disappointing was the performances. Sam Neill was slightly below average. But what surprised me more was that Meryl Streep, for this once, seemed to me a miscast. She didn't look quite convincing in this role (although usually she adapts & absorbs herself quite well in almost any role; we're all quite aware of her versatility). Anyway, that's just me, because almost everyone else has applauded her performance & she even got nominated for several awards, including Oscar. All in all, the movie is still worth a watch once as it is. But it surely could have been greater than 6.5/10. A BIT OFF TOPIC: When I found that it's available on Youtube, I thought of giving it a go there. However, while the quality was good, it wasn't up to the standards I've got used to lately (but I guess those used to watching movies online will find it good enough. I used to do that for a while when I was a beginner on the internet, but haven't done so since quite long). So I stopped right after watching the first part there. Thought I'd mention it just in case any of you wanna check it out on youtube.
familiar stranger
Super Reviewer
Lindy Chamberlin: "The dingo took my baby!" words forever etched in the Australian cultural psyche. A great courtroom drama film and a terrific performance by the incomparable Meryl, who had to play not only an Australian accent but also with a hint of A New Zealand accent reflecting the background of Lindy Chamberlain.
Jeremy Smith
Super Reviewer
½
A CRY IN THE DARK is an extremely well told, deeply involving drama. Director Fred Schepisi is excellent in the directors' seat, as is Meryl Streep in the lead role, proving once again why she's an acting legend. Her portrayal of Lindy Chamberlain is chillingly perfect. Sam Neill brings good support to this Streep-centric film.
Fernando Rafael Quintero Castañeda
Super Reviewer
Evil Angels (A Cry in the Dark) Quotes