Cry of the Owl
(2009)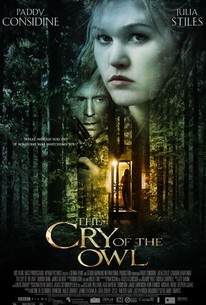 Movie Info
A man with a troubled past becomes the prime suspect in a small-town murder case. Adapted from the novel by Patricia Highsmith, The Cry of the Owl tells the tale of Robert Forrester (Paddy Considine), a man who flees from the city and his marriage in search of solitude. Eventually, Robert winds up in a quaint community and becomes drawn to Jenny (Julia Stiles), a pretty local whose simple existence holds a unique appeal to the former big-city dweller. When Jenny notices Robert peering in through her kitchen window, she senses that he doesn't mean her harm and strikes up a conversation. Suspicious of the mysterious newcomer's motivations and jealous of the attention his girlfriend is getting, Jenny's boyfriend Greg (James Gilbert) launches an obsessive campaign to humiliate and destroy Robert. After a heated confrontation Greg goes missing, and the authorities begin looking to Robert for answers. Now the higher the stakes get, the more Robert begins to suspect that he's being set up to take a big fall.
Critic Reviews for Cry of the Owl
Audience Reviews for Cry of the Owl
½
During his divorce proceedings with Nickie(Caroline Dhavernas), Robert Forrester(Paddy Considine) is trying to start over at a new job at an aerospace company. After work one day, Greg(James Gilbert) bums some money off of him for a present for his girlfriend Jenny(Julia Stiles). With an equal mix of creepiness and curiosity, Robert plays Peeping Tom outside of her house until she spots him and invites him inside. The two quickly become friends. So much so, that Jenny dumps Greg and invites Robert hiking with some friends of hers. "Cry of the Owl" wants to desperately be a dark and offbeat film about the relationship between two damaged people but only gets about halfway there. A lot of that has to do with the performances of the leads. Paddy Considine, again proving he can do little wrong, hits the right notes playing a man uncomfortable in his own skin and whose timing is always off. And if only I could say the same thing about Julia Stiles who brings out little depth in her performance of an otherwise intriguing character. So, maybe it would have been better if she had switched roles with Caroline Dhavernas. Admittedly, that still would not have made up for the story's flaws or the failure to adequately recreate small town atmosphere.
½
I liked parts of this movie - especially when Jenny turns the table on Robert and starts stalking him. I had no problems with the plot until the final scene which dropped my rating by a full star. Still if you like dark non-mainstream movies, this is one you should watch.
½
Waste of a very good novel, in almost every way, except the interpretation of the lighting. Chabrol's version was a failure with many ingenious shots, and maybe one of the great final shots. The script here is even worse than Chabrol's was, though it attempts to amplify the theme of mortality that haunted everything else in the book. The screenplay puts in dialogue and incidents to add contemporary flavor -- to a narrative from 1962 that could have just as easily been from 1992 --- and these feel like distracting, hackish touches. One of the novel's strengths was that no character was ever definite, even the protagonist, and here the characters are given "arcs" and drained of ambiguity, even the manaical ex-wife, who starts out promising. The relationship between the two main characters is much more determined, and its significance more obvious to the protagonist than it was in the book. They have a first encounter that sounds like it was written for a playwrighting class. And then James Thraves, the writer-director, overplays the fact of the girl's pseudo-stalking because it's a story concept we haven't seen before. Paddy Considine was a poor choice for the protagonist, as was beginning to draw him like a Gen-X schmiel. Julia Stiles more plausibly looked the part in the novel, but she is under-rehearsed or directed. The supporting characters all seem cardboard and allowed to say their lines like filler as long as they sound Canadian. This is a script that doesn't demand enough of the actors, so they're left clueless about how much to give to make their characters interesting between the lines. Thraves runs away from the challenge of portraying the ex-wife and the ex-boyfriend as they unveil truer parts of themselves and become like feral animals in a zoo or devils in a nightmare. The unsolicited entropy these two incarnate is, in the book, agonizing and a kind of sublime terribleness. Chabrol tried to show it, since it was a main hook for readers, and started OK by getting the casting of the wife and boyfriend right. This movie avoids risk while adapting a novel that must have appealed to the filmmakers because it didn't care about seeming familiar as a thriller.
Adam Mahler
Super Reviewer
Cry of the Owl Quotes
There are no approved quotes yet for this movie.