Cry_Wolf
(2005)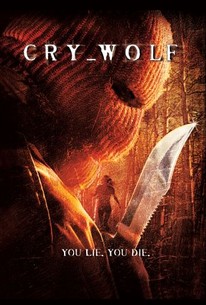 Movie Info
A big lie told in fun has deadly consequences in this horror story. A group of students at an exclusive private school decide to have some fun by creating an urban legend and seeing how far it will spread. When a woman is murdered not far from the school's campus, the students create an elaborate mythology about a serial killer known as "the Wolf," whose motives and methods would make him a likely culprit for the recent crime. However, when other people begin dying at the hands of "the Wolf," the students are forced to admit to their lie in hopes of stopping the killings. But will anyone believe them? And how does the real-life killer know so much about the backstory of "the Wolf"? Cry_Wolf stars Julian Morris, Lindy Booth, Jon Bon Jovi, and Gary Cole.
News & Interviews for Cry_Wolf
Critic Reviews for Cry_Wolf
Audience Reviews for Cry_Wolf
[img]http://images.rottentomatoes.com/images/user/icons/icon14.gif[/img]
Directors Cat
Super Reviewer
Interesting idea that never takes off due to a poor script. The film had a good premise, unfortunately there's nothing going for the film, and I found myself bored watching this. Acting wise, the actors here are poor and none of them have any screen presence. This is meant to be a Slasher film, and it borrows heavily from the 1980's hit April Fool's Day, which was superior. This film lacks any suspenseful moments to really make it a fun and entertaining film that delivers top-notch scares. Mildly amusing in the long run, Cry Wolf could have been a much better film if the script would have been better. This film doesn't have anything effective in delivering chills and it is a scare free, predictable affair that is a perfect example of a mediocre horror film. This film could have been much better than what kit turned out to be. Unfortunately with sloppy direction, this is an unfocused picture that doesn't offer anything worthwhile for genre fans. As far as I'm concerned, this is a film that is poorly thought out, one that doesn't deliver and one that is pretty forgettable. This is a poorly acted film to boot and the director clearly can't craft a memorable terror experience. Cry Wolf is practically a rehash of previous ideas from other films, and you can clearly see where the cracks in the film lie. Mediocre and it's a shame because the film had a pretty ingenious idea and it's a shame that the filmmakers couldn't craft a more entertaining film in the long run and it ended up being a misfire due to a paper thin plot and poor execution of the material.
½
Have just rewatched this one. Don't know how my original rating was 4. Hmmm... It is an okay horror with an abrupt ending. The real star here is Lindy Booth as Dodger. I don't know how this girl didn't go on to have a more successful career, as she is quite interesting on screen. (Or maybe she has and I just haven't seen the type of movies she stars in these days, will have to check that out). Jared Padalecki is not in it all that much, and he's pretty much an oaf here. Obviously this one was before he became well known on Supernatural. The rest of the cast I think were no names, apart from Jon Bon Jovi, and the less said about that the better (although in all fairness he is okay. He plays a sleazy teacher, so it's probably ideal casting for him).
Nicki Marie
Super Reviewer
Cry_Wolf Quotes
There are no approved quotes yet for this movie.