Crying Freeman
(1995)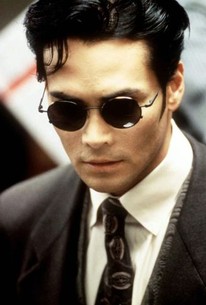 AUDIENCE SCORE
Critic Consensus: No consensus yet.
Movie Info
Based on a popular Japanese comic, this stylish, romantic French-Canadian actioner features many exciting pyrotechnic effects, elegantly executed murders, and some nifty-doodle gadgets, but very little on-screen bloodshed as it follows the adventures of Yo, one of the world's greatest hit men. Yo works for a mysterious Chinese organization and has been given the dubious honor of being called Freeman, the name the tong gives to its chief enforcer. Yo doesn't want the honor, but there is little he can do; obligation is more important than personal want. Still, after each killing, Yo sheds a few tears for the victims. One day he bumps into Emu O'Hara, a beautiful painter who has avoided people after mobsters killed her father, who was a rigidly honest judge determined to wipe out crime. Emu witnesses Yo's killing three Yakuza on a rugged stretch of California coastline where she is painting. Yo sees her see him, and though they never speak, both know that necessity dictates she be his next victim. Following the police investigation of the killings, Emu goes back to Vancouver, BC. Yo has also been sent there to kill her and a Yakuza don.
Critic Reviews for Crying Freeman
There are no critic reviews yet for Crying Freeman. Keep checking Rotten Tomatoes for updates!
Audience Reviews for Crying Freeman
Probably Mark Dacascos finest hour in this highly stylised adaptation of a classic manga character and graphic novel. This is where I first saw and heard of Dacascos and I really dug the guys talents, he was lean, athletic and he could do both Karate and Kung Fu styles, its just a shame that since this excellent film he went very much down hill with low budget action films. As for this adaptation its really very good considering its one of the first major comicbook films along side 'The Crow' which went for a serious adult approach just like the original source. To clear things up this is not a balls out action fest with killing and guns galore, its quite a thought provoking slow building story which does have some fantastic sequences but its not chock full of blazin' violence. A lot is based around both the Japanese and Chinese underworld which for anyone interested in the East and its customs, such as myself, is always a pleasure, plus it always seem to look really good on film too. There is some gun porn here of course alongside some samurai sword fighting, martial arts, neat explosions with a few stunts and the now over used slow motion death sequences but it all looks very lush and sharp. Remember this was 1995 and the mid 90's was the era of John Woo and his slick slow motion tomfoolery, so you know what to expect visually. Odd mix of folk for casting it must be said, due to some changes from the source material a few characters are now Western instead of Eastern and being directed/produced by both French and Canadian sources you have a real worldly blend of ideas going on, sort of. I think everyone knows to expect changes from the original source material though, something we just gotta live with I'm afraid. I myself had long forgotten about this film and I'm glad I checked it out again as its well worth your time if you enjoy martial arts of course. These days it will seem totally cliched and completely old hat but lets not forget it was one of the first serious comicbook adaptations. The film was never released in the US at first, unsure if its available now, so maybe many have missed this cracking assassin flick? if so go check it out.
Phil Hubbs
Super Reviewer
I remember being quite dissapointed with this one, both as a fan of the manga and as a fan of action cinema. Gans clearly knows his hong kong cinema, but he's no Woo, To, Lam or Hark. Needs a rewatch for sure.
Tsubaki Sanjuro
Super Reviewer
½
Mark Dacascos makes amazing performance as the title role based on the Magna comic book with his martial arts, guns and swords scenes.
Dean McKenna
Super Reviewer
Crying Freeman Quotes
| | |
| --- | --- |
| Freeman: | Chairman Gate is an enemy of chairman Blade and freeman's head is a slave of the sons of the dragon |
| Freeman: | Chairman Gate is an enemy of chairman Blade, and freeman's head is a slave of the sons of the dragon. |