The Crying Game
(1992)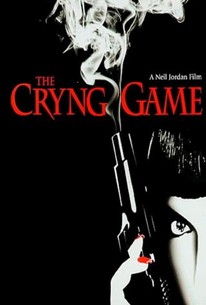 TOMATOMETER
AUDIENCE SCORE
Critic Consensus: The Crying Game is famous for its shocking twist, but this thoughtful, haunting mystery grips the viewer from start to finish.
Movie Info
In this successful psychological thriller, a reluctant agent of the Irish Republican Army discovers that some people just aren't who you expect them to be. Fergus (Stephen Rea) is an IRA "volunteer" who, despite personal misgivings, takes part in the kidnapping of a black British soldier, Jody (Forest Whitaker), stationed in Northern Ireland. The IRA hopes to use Jody as a bargaining chip to win the release of IRA operatives behind bars, but, while guarding Jody, Fergus becomes fast friends with his prisoner. Jody makes Fergus promise him that if he dies, Fegus will look in on his girlfriend, Dil (Jaye Davidson), and see if she's all right. Jody escapes, and Fergus doesn't have the heart to shoot him; as fate would have it, Jody runs from the woods into a street only to be run over by a British police vehicle, which then flushes out the IRA compound. Fergus escapes to London, where he's wanted by the law for Jody's kidnapping and also by his former girlfriend, IRA operative Jude (Miranda Richardson), who thinks he knows too much to fall into the hands of the British authorities. Good to his word, Fergus tracks down Dil, and soon the two outcasts find themselves entering into a love affair, although Fergus discovers that Dil is not the sort of woman he thought she was. Writer/director Neil Jordan won an Academy Award for his screenplay; the title song, which was a U.K. hit for Dave Berry in 1965, was re-recorded for the film by one-time Culture Club vocalist Boy George with backing by the Pet Shop Boys. ~ Mark Deming, Rovi
Critic Reviews for The Crying Game
Audience Reviews for The Crying Game
Mostly known for "the big reveal," which is kind of a shame, since there are quite a few different intriguing elements in Neil Jordan's mediation on sexual politics. Also, is there a more quietly effective actor than Stephen Rea? Not many other actors can be both understated and powerful the way he can.
Jonathan Hutchings
Super Reviewer
Two different things fused together that you wouldn't think would fit make a film that evokes the troublesome violence of war, the bonds of friendship which cannot be diminished by political loyalties, and the nuanced differences of love and sex. The political atmosphere of the film plagues it in the beginning, throwing in an undertone of revolution and an honest look at the IRA's contribution to wartime travesties, and the bloodshed they must inflict and endure to win out. Though this makes up a huge chunk of the first part of this film it's not the predominant theme. It's more of a complex yet convenient plot device to satisfy the need to give the main character a great dollop of guilt, enough to fuel the rest of the plot. The main reason it's set where it is and holds the weight of political intrigue and rebellion is because it was written and directed by native Neil Jordan. It's a universal story that could have been put in multiple times of war or revolution and been just as interesting. It's the sordid time of the nineties that made this film a sleeper hit and jacked up its box office total. Besides that there is also a big reveal in the plot which changes the tone of the film and shocked a lot of audiences who made this film famous through word of mouth. The film itself is not as shocking by the standards of the times we live in. This was in part a story about love triumphing over the intense reflections of Irish extremist society and also the world view of sexuality and gender roles. Maybe that's being too general a message or meaning for this complex look at several mainstream issues. None of them are directly addressed or explored to its fullest capacity, so I have to look at this film solely for its story. In all, nothing was too over the top, offensive, or revealing about the state of the world's affairs, but it was an interesting and topsy-turvy view of the bonds between people. Most of all the film is about Fergus (Rea), his guilt at the fate of Jody, and his ensuing want to protect his girlfriend, who he subsequently protects in lieu of Jody. The plot itself was collectively successful in showing Fergus through every stage of his denial and acceptance of the circumstances. In the end he ultimately sacrifices everything to clear a murky conscious, and if this is the true point of the film it's undoubtedly the most powerful part.
Spencer S.
Super Reviewer
½
A well-constructed though massively over-rated thriller about an IRA "volunteer" (Stephen Rea) who starts a relationship with a striking female (Jaye Davidson) who is the girlfriend of a hostage (Forest Whitaker) he once looked over and shared a special bond with. It gets major brownie points for its twist (which, even if you see it coming, like me, it still is executed terrifically), as well as the simply superb performances leading the way (both Rea and Davidson knock the ball out of the park in their respected turns). However, it takes a while to get going, and some of the plot does not make total since (why the IRA wants Rea back to do that "one last job" - seems cliche). However, still a very watchable film, thanks to the chemistry between Rea and Davidson, as well as its clever take on human sexuality and what loving a person is all about, even if they aren't what you think.
Dan Schultz
Super Reviewer
The Crying Game Quotes
| | |
| --- | --- |
| Dil: | Details, baby, details. |
| | |
| --- | --- |
| Dil: | Y'see, I'm not a young thing any longer.... Funny the way things go. Don't you find that, Jimmy? Never the way you expected. |
| | |
| --- | --- |
| Jody: | ...and as they both sink beneath the waves, the frog cries out, "Why did you sting me, Mr. Scorpion? For now we both will drown!" Scorpion replies, "I can't help it. It's in my nature! |
| | |
| --- | --- |
| Fergus: | Have you ever tried to pick up your teeth with broken fingers? |