Crystal Fairy
(2013)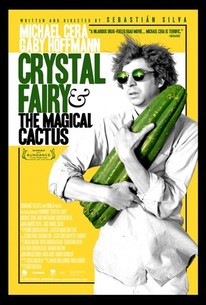 TOMATOMETER
AUDIENCE SCORE
Critic Consensus: Slight and unpolished, The Crystal Fairy is held together with Sebastian Silva's assured direction and a pair of strong, committed performances from Michael Cera and Gaby Hoffman.
Movie Info
In this freewheeling comedy from the director of The Maid, Michael Cera (Arrested Development, Superbad) stars as Jamie, a shaggy, boorish young American traveling through Chile. While searching for a rare hallucinogen-the famed San Pedro cactus-with a trio of Chilean brothers, Jamie invites a mysterious hippie (Gaby Hoffmann) along for the ride, but her free-spirited personality quickly clashes with his self-absorption. When they head for the beach, Jamie's big trip starts taking surprising turns. (c) IFC Films
News & Interviews for Crystal Fairy
Critic Reviews for Crystal Fairy
Audience Reviews for Crystal Fairy
Crystal Fairy & The Magical Cactus & 2012 is about a trip to a trip on mescaline. Jamie is an American who is with his friend in Chile. They plan on finding a San Pedro cactus and taking to the beach where they will cook and drink it. At a party, the night before leaving, Jamie does a lot of cocaine and invites a hippy to come along with them. He completely forgets this the next day and is surprised when she calls him to meet up with them. Jaime's character is irritating, annoying, and just plain selfish. Because of his hastiness to get where they're going and to do mescaline, he misses the trip within the trip. My big problem with Crystal Fairy is that of a lot movies that try to deal with the hallucinogenic drug awakening. It just doesn't seem like it can be done on film in way that actually gives justice to substances like mescaline and LSD, and how they trigger critical thinking and change your consciousness. This seems to just be a limit that film can't pass. Overall though, Crystal Fairy is a decent film, if you have the patience necessary for the road trip and for Jamie's character in general. He's the type of person that needs a great deal of understanding and patience from the audience.
Melvin White
Super Reviewer
* Sometimes I amaze myself at the movies I will sit through because it gets nominated for awards. This movie was up for some Spirit awards(actress, and a few others), it stars Michael Cera, so I figured Why Not? It's about a group traveling through Chile to get a drug out of a cactus to get high, then they have a bunch of drama amongst themselves on a beach. It has a few funny moments, but overall it's boring, incoherent, and just not very good or entertaining. I like Michael Cera, but this is one of his movies that is just dumb(kind of like how "Paper Heart" was dumb). The hippie girl he picks up played by Gaby Hoffman is good, but nowhere near deserving of any award nomination on any planet. This is weird, and a big time wasting movie(another gem I watched off of Netflix). Of course, I should be surprised that a movie called "Crystal Fairy and the Magical Cactus" is bad. Don't bother at all with this, unless you're on the drugs they are searching for.
Everett Johnson
Super Reviewer
MisterYoda ?
Super Reviewer
Crystal Fairy Quotes
There are no approved quotes yet for this movie.