Cube
(1998)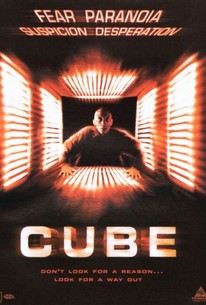 TOMATOMETER
AUDIENCE SCORE
Critic Consensus: Cube sometimes struggles with where to take its intriguing premise, but gripping pace and an impressive intelligence make it hard to turn away.
Movie Info
Six people are inexplicably imprisoned in a booby-trapped system of boxes, with no hope and fewer means of escape. A high-tech masochist's "Lifeboat."
News & Interviews for Cube
Audience Reviews for Cube
½
Low budget? Check. Cast of unknowns? Check. The same set used over and over? Check. And yet not a bad sci-fi metaphor of modern society as a hope-killing, inescapable trap as the proverbial group of stereotypes meet inside a deadly Rubik's Cube and try to escape. Give it a coupla minutes to warm up ... and it's not too bad at all.
Kevin M. Williams
Super Reviewer
[img]http://images.rottentomatoes.com/images/user/icons/icon14.gif[/img] Vincenzo Natali is the master of surrealist science fiction cinema. Cube was his first ever film but also the one which demonstrated the strongest that he can flesh out true horror simply by manipulating something's appearance. This micro budget thriller held the high watermark until the release of his true masterpiece, Splice. But Cube was a movie that was always really hard to follow, and it's been ripped off many times since it came out. The range of short concept, visually enigmatic horror flicks that it has undoubtedly inspired include the cynical yet ridiculously popular Saw franchise. That said unlike the film's that followed it the death sequences are gruesome and hugely innovative. Although the acting is at times slight, the overall performances flesh out a phenomenal sense of pure panic without resorting to kicking and screaming. The tension of the film cranks up every single minute as plot twists of varying predictabilities further intrigue us into the small world that has been built for us. Not a lot is said about what the titular cube setting is and the unknown motives that are behind it's existence. We are simply dropped right into the action, of which there is impressively very little, and everything we learn about the story is through the eyes of the victims of the horrors that are yet to come. At one key psychological tension between two characters explores how humans take action without asking any questions and how we lack the confidence to inquire the consequences, and how everything we do is to our own benefit. A metaphor of the movie, and 5 minutes of sharp satirical dialogue that is as intelligent as Natali's method of conceptual filmmaking. I thought it was masterfully executed, beautifully lit and effectively atmospheric. A small indie horror gem of the 90's, which to this very day is still unforgivably unheard of.
Directors Cat
Super Reviewer
This might be a pretty low budget sci-fi horror film, but, all things considered, it's surprisingly pretty good, and a great example of using a small budget to maximum effect by getting as creative as possible despite limitations. The plot is really Kafkaesque and follows a group of people trapped in a series of interlocking cubical chambers, some of which are booby trapped. None of them recall exactly how they got there, or why, but all they know is that they only have so much time to figure out a way to escape (if possible) unless they want to be trapped in there forever. In a fun little nod, all the characters are named after various prisons, and their personality traits are related to some aspect of the prison they are named after. Cool. I also really liked that this film is a nice blend of math, psychology, philosophy, and bits of sci-fi and horror. For a low-budget B indie, they sure swung for the fences, and thankfully it mostly pays off. Yes, the acting isn't that great, but the scenario is cool, the execution is pretty decent, and the art direction and set design are well done. I also really love how there's a lot of mystery to things, and it's not all completely spelled out in the end. All in all, a decent and worthwhile watch. Give it a shot.
Chris Weber
Super Reviewer
Cube Quotes
There are no approved quotes yet for this movie.