Cube 2 - Hypercube
(2003)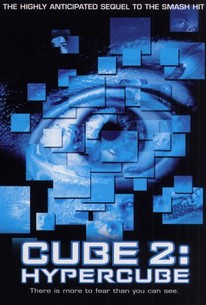 Movie Info
In this Canadian-filmed sequel to (what else?) The Cube, eight strangers awaken in a cube-shaped room with no idea of where they've come from or how they arrived. All they do know is that they've been plunged into a fourth-dimensional netherworld where all physical laws seem to be made up as they go along. Presented with cryptic clues as to the nature of their plight, the tiny group desperately tries to find a way out of their constantly shape-shifting environment, certain that if they don't escape, they will die slow but spectacular deaths. First shown at the Fantasy Filmfest in Munich, Germany, in the summer of 2002, Cube 2: Hypercube bounced around the sci-fi festival circuit until its American cable TV debut over the Sci-Fi Channel on April 5, 2003.
Critic Reviews for Cube 2 - Hypercube
Audience Reviews for Cube 2 - Hypercube
First sequel to Cube is actually pretty good. Though far from perfect, this film does have its moments. The concept in this sequel was really interesting, and I thought it was a good departure from the original. Though the same ideas, there is enough new ideas to make this an entertaining sequel. The film is terrific in its conception. The ideas for its plot are wonderful, which in turn keep you interested in the film. What's great about this sequel is the fact that they build up on the ideas of the first film, but create something totally new in the process. The acting here is pretty good, and each actor deliver something good on-screen. The film is worthwhile sequel and the director creates a unique spin on the Cube. What I love about this series is the fact that it's low budget, but the filmmakers use a mediocre budget to create something terrific. For the budget, this film looks great. Fans of the original should check this film out, though it's not as great as the first, Cube 2 still manages to deliver good shocks,. and good entertainment. What makes this film watchable in the end is the concept behind the cube, which is enough to keep you involved from start to finish. All in all, this is a good enough sequel to the original Cube film, and far better than the third and final entry in this trilogy, Cube Zero. This film has enough good elements to appeal to fans of the first film.
This is a sequel to the Cube, and though not as good as cube, its still a pretty good film, that keeps you on the edge of your seat. Eight people find themselves locked in a never ending cube with infinite number of rooms, most of which might me elimination or death, Kari Matchell is not only beautiful but over the top with her acting in this one. A very surprise ending, and its on to Cube 3 better know as Cube Zero. This one gets 4 stars
Bruce Bruce
Super Reviewer
½
Yep... it sucked. Still great theory, just not put into action very well.
Leigh Ryan
Super Reviewer
Cube 2 - Hypercube Quotes
There are no approved quotes yet for this movie.