Cujo
(1983)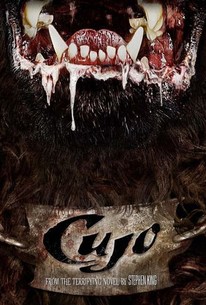 Movie Info
Cujo is a frightening, but uneven horror tale of a rabid St. Bernard dog who terrorizes a woman and her son who are trapped in a stalled car. Donna (Dee Wallace Stone) and her son are forced to stay in the car for several days as the dog prowls around outside the car and they try to find a way to escape. Cujo, based on the Stephen King novel of the same name, is directed by Lewis Teague, who, while taking a leisurely pace in the beginning of the film, succeeds in building the suspense to a conclusion that, when it finally arrives, is truly terrifying and for horror fans, well-worth the wait. Cujo one of the more successful adaptations of King's work, is a genuinely frightening if somewhat slow horror film, and definitely not for children.
News & Interviews for Cujo
Audience Reviews for Cujo
½
Surprisingly decent despite being very straight to vhs in appearance. Mostly thanks to Dee Wallace, who lifts this quite a bit. Ending is abrupt and unsatisfying, though, and too much of the screaming kid to want to rewatch. I had sympathy for poor Cujo.
Nicki Marie
Super Reviewer
It's understandable that this is an actual psychological fear, as dogs are large and prone to sometimes bite. On the other side of the spectrum dogs are friendly and lovable, making it even more startling to see them terrorize a mother and son locked in a hot car for several days. So goes the premise of Stephen King's "Cujo" a film about a rabid dog throwing himself against a dead car, and out in the middle of nowhere, with a mother and son locked inside for protection. It's really more a film about survival of the elements and waiting for help, than in fighting off the dog. The film itself is not well structured, as most of the first hour of the film is devoted to building up flimsy characters and showing setting. When we finally get to the action, it's underwhelming and not very scary. This is probably the least thought out and overly complicated of the King film adaptations, relying more on overwriting than in scares.
Spencer S.
Super Reviewer
½
Vic Trenton: There are no real monsters.  Tad Trenton: Except for the one in my closet.  "Unleash the terror." Cujo isn't a terrible movie by any means and it isn't a bad adaption of the Stephen King book either. It's just that Cujo isn't anywhere near King's best work. It's one of his least terrifying, horror stories. It's only scary is you have a St. Bernard, that just happens to be named Cujo. At the start of the movie Cujo is chasing a rabbit. He sticks his head into a hole and gets attacked by a bay, which bites him on the nose. The dog goes on a killing spree, before trapping a mother and son inside their dead car. The movie isn't really all that thrilling, but given that most of it is shot in a car, I have to say it is pretty well done. I especially liked the scene where the mother sits and the front of the car, after an attack, and the kid sits crying in the back. The camera is in the middle and slowly rotates between the two before it goes nuts and spins faster and faster, until it's just a blurry mess. The acting isn't too bad and the movie looks really good, with some great cinematography by Jan De Bont. If you are intrigues by the premise, you'll probably love this one; I however was not and it made the last hour very hard to sit through because I wasn't in anyway absorbed into the story. 
Melvin White
Super Reviewer