Cul-de-Sac
(1966)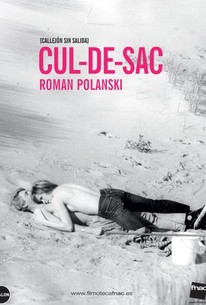 Movie Info
Roman Polanski and Gerard Brach wrote this memorable black comedy about an uptight recluse and his nymphomaniacal young wife, whose stormy existence in an isolated British castle is turned upside down when two wounded gangsters break into their home and take over their lives.
Critic Reviews for Cul-de-Sac
Audience Reviews for Cul-de-Sac
Considered something of a hidden treasure for some time, this isn't exactly the holy grail of Polanski, but it's definitely a well made movie and interesting. The performances are all over the place and bizarre, but that's kind've one of the best things about it. It's a pretty simple home invasion plot, but the execution is where it gets interesting. I really like the offbeat style and the fact that it isn't as serious as it could be. The black and white cinematography is flawless and a reason alone to check this out.
Conner Rainwater
Super Reviewer
Roman Polanski's "Cul-De-Sac" is probably the most 'Polanski-ish' film the director has made. Every sensibility of the famed auteur is on display here. From the genre bending, to the mental games of imposition, to the stylish cinematography, to the loopy performances. "Cul-De-Sac" also delights in being non-comformative and always hiding it's true intentions. After all, this is more of an abstract art film than a piece of narrative cinema (maybe the most peculiar and obscure film he's made). What the film means seems to be a question Polanski is not concerned with. He once said "It's just a film...". If that's the case, why does it feel so decided and precise? Like everything we are meant to see is specially chosen? Polanski seems to suggest that his film is without a specific intent, which is odd. If that is what he really meant, then why did he fight for so long to get it made? Curious, indeed. Whether "Cul-De-Sac" is utterly worthless, or, like I believe, tantalizingly alive inside it's mental threesome unreality, there is no denying it's a one of a kind motion picture.
Steven Carrier
Super Reviewer
½
This is an interesting comedy thriller from Polanski, one of my favourites of his. Really good, i highly recommend it.
Cul-de-Sac Quotes
| | |
| --- | --- |
| George: | Get the hell out of my... fortress! |
| George: | Get the hell out of my fortress! |
| | |
| --- | --- |
| Richard: | Here we are. |
| Albert: | Where? |
| Richard: | In this shit. |
| | |
| --- | --- |
| Little Nicholas: | That Froggy bitch pulled my ear off! |
| Little Nicholas: | That froggy bitch pulled my ear off! |
| Mr. Fairweather: | Here, here, here! Who taught you to speak like that? |
| Mr. Fairweather: | Here, here, here! Who taught you to speak like that? |
| Little Nicholas: | Mum did! |