Cult of Chucky
(2017)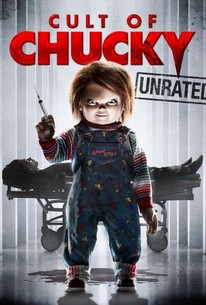 Movie Info
Chucky returns to prey upon Nica (Fiona Dourif), who's been confined to an asylum for four years. Chucky's nemesis from the original Child's Play, Andy (Alex Vincent), tries to save Nica, but first he has to deal with Tiffany (Jennifer Tilly), Chucky's devoted former wife. Directed by Don Mancini.
News & Interviews for Cult of Chucky
Critic Reviews for Cult of Chucky
Audience Reviews for Cult of Chucky
½
A disappointing entry in this storied series, Cult of Chucky attempts to set a new course and makes a mess of things in the process. After her family is killed by Chucky, Nica is committed to a mental hospital but finds that Chucky has followed her there looking to finish the job. There's also a worthless subplot with Andy (from the first three films) that the writers don't seem to know what to do with but got boxed into by Curse's end credit scenes. And all the old mythology about Charles Ray (aka Chucky) and his voodoo powers gets thrown out and replaced. Still, the kills are pretty entertaining (in a horror movie king of way), and there's a bit of mystery as to which of the two dolls at the hospital is the real Chucky and what his plan is. Cult of Chucky lacks vision and ends up as just another dumb, pointless slasher film.
Dann Michalski
Super Reviewer
½
Weak instalment, but any chucky is a good thing!
Nicki Marie
Super Reviewer
The Child's Play franchise has never been a huge favourite of mine, due to the fact that most of the sequels are complete rubbish, with a couple exceptions. Back in 2013 when this franchise was revitalized with Curse of Chucky, I was pleasantly surprised at how much I enjoyed that film. Now, Cult of Chucky has hit the shelves and I must state something that I didn't expect when going into this film. This is one of the best films this franchise has ever released. Obviously nothing will be able to touch the simplistic, yet special world that the original film created, but this may just be the best sequel yet. Written and directed by Don Mancini, who has written every film since the very beginning back in 1988, it has been very clear that he enjoys having these films take place throughout very limited space. Whether in an apartment, a house, or a toy factory, these movies have always felt very self-contained, which I can definitely appreciate. This time around, Cult of Chucky takes place entirely at an insane asylum, where previous, as well as new victims linger. Playing with the audiences mind as to whether or not this doll has just been a hallucination all along, I found myself engaged the entire way through, which is far more than any of the other sequels have done for me. With the help of old friends, this movie seems to truly bring the franchise full circle, which was nice to see. If you've never seen this franchise before, I can guarantee that this film won't do much for you, and if you've seen it and didn't enjoy it in the past, then this one won't be the one to win you over either. This is a solid little horror flick that's elevated by past characters and events, so it really is a franchise piece. I'm stating these things, because those who thoroughly enjoy these movies know that they shouldn't be taking them too seriously. Yes, there are some genuinely terrifying moments of gore throughout Cult of Chucky, but the fact that he's a fowl-mouthed doll is just meant to be charming and entertaining, just in a gruesome way. When watching this film, it gives you a sense that there will sill be more films to come throughout the years, due to to its open ending and need to throw in new-age pop-culture references in order to warrant its return. That being said, some of the forced pop-culture references feel out of place and lead to some pretty terrible dialogue in an otherwise well-planned film. This is where by biggest flaw with the film comes into play. I actually thought that the overall plot of this film was terrific, as far as this franchise goes, but some of the dialogue really had me cringing, and that's not good, because I couldn't tell if they were trying to go for something comedic or genuinely serious. In the end, Cult of Chucky is honestly a far better film than it has any right to be after all these years, but if you sit through all of its predecessors before viewing it, then I believe you'll be pleasantly surprised like I was. This movie isn't going to win anyone over who hasn't been along for the ride in the past, but this is some solid horror flare that demands some attention around this time of the year. Now available for rent and streaming, I highly recommend this film if you're a fan of the genre. Newcomers need to be weary of the tone that these movies go for.
Cult of Chucky Quotes
There are no approved quotes yet for this movie.