Cult of the Cobra
(1955)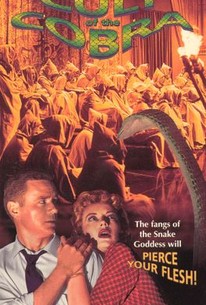 AUDIENCE SCORE
Critic Consensus: No consensus yet.
Movie Info
In this off-beat horror film, six GIs stationed in Asia secretly photograph the arcane rituals of a group of cobra worshippers. At the climax of the ceremony, the cult members turn themselves into snakes. The high priestess catches the soldiers spying and throws a curse upon them.
Critic Reviews for Cult of the Cobra
Audience Reviews for Cult of the Cobra
½
This film contains a large number of all star actors from the fifties and sixties that make cameo appearances so you really have to watch for them. This is part of the Classic Sci Fi Ultimate Collection Vol 2. If you like cobras and if you like Faith Domergue you'll like this film. At the beginning the mysteriousness of the cobra cult is well done as the servicemen watch. Faith, the villainess cobra lady, steals the show. Her beautiful eyes are highlighted just before she turns into the cobra. Each time she appears in the film you're drawn to stare at her eyes wondering if it's time for her to change into a cobra again. The cobra's perspective is realistic as it seeks out its next victim. In Black and White but that makes it all that more awesome. 4 1/2 stars 4-16-12
Bruce Bruce
Super Reviewer
You can tell where this movie is going just from what happens in the beginning, so the rest is really boring.
For a Universal Studios B-picture, this one isn't bad. It's about a group of American soldiers in "Asia" (the sets look like a cross between India and Morocco) who sneak into a secret snake ritual. One of the soldiers attempts a little flash photography and the group barely escapes with their lives. Soon afterward, the men return to the states and, one by one, they meet their demise under strange circumstances. *Note: Did anyone else notice the bizarre similarity between Cult of the Cobra (1955) and To Hell and Back (1955)? The two films have virtually the same cast (minus Audie Murphy of course). Marshall Thompson, Jack Kelly and David Janssen all play soldiers in both films. What an odd double feature this would be!
Randy Tippy
Super Reviewer
Cult of the Cobra Quotes
There are no approved quotes yet for this movie.