Curdled
(1996)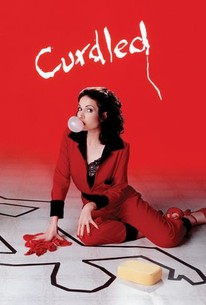 Movie Info
In this dark comedy, a woman fascinated with crime has an unexpected brush with a famous murderer's handiwork. Gabriela (Angela Jones) is a Colombian immigrant living in Miami who has been fascinated with violent death since she saw a falling corpse pass by her window as a child. Today she works for a cleaning service that specializes in mopping up the blood, gore, and bone fragments left behind at crime scenes, and she is tickled to discover one day that she's cleaning up after an execution by her favorite at-large serial murderer, The Blue Blood Killer (William Baldwin), so named because his victims are all wealthy women. But Gabriela doesn't know that the killer is still in the building; he managed to lock himself in the wine cellar while trying to escape, and he is slowly trying to remove the bolts from its lock while Gabriela makes the place livable again. However, while cleaning, she discovers a piece of evidence that could confirm the identity of the killer, just as he's about to emerge from the cellar. Curdled is an expanded version of a short film that director Reb Braddock made in 1991; the short inspired one of the episodes in Quentin Tarantino's film Pulp Fiction, and Tarantino in turn helped produce this feature-length remake, as well as making a cameo appearance.
Critic Reviews for Curdled
Audience Reviews for Curdled
This movie is so dark and somehow funny. I love it!
Hogans Hero
Super Reviewer
½
Crap, set to the tango. Like Dirty Dancing with gratuitous bloodshed.
Curdled Quotes
There are no approved quotes yet for this movie.