The Curious Case of Benjamin Button
(2008)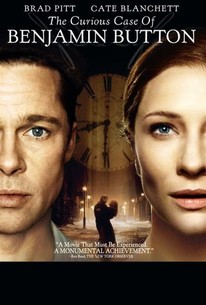 The Curious Case of Benjamin Button Videos
The Curious Case of Benjamin Button Photos
Movie Info
David Fincher's The Curious Case of Benjamin Button, an adaptation of F. Scott Fitzgerald's story, re-teams the director with Brad Pitt, who takes on the title role. What makes Button such a curious case is that when he is born in New Orleans just after World War I, he is already in his eighties, and proceeds to live his life aging in reverse. This sweeping film follows the character's unusual life into the 21st century as he experiences joy and sadness, loves lost and found, and the meaning of timelessness. Cate Blanchett co-stars along with Tilda Swinton, Elias Koteas, and Julia Ormond. ~ Perry Seibert, Rovi
Critic Reviews for The Curious Case of Benjamin Button
Audience Reviews for The Curious Case of Benjamin Button
The Curious Case Of Benjamin Button charts the life of a man who was born old and grows younger as times progresses across the span of the 20th century. Based on a short story by "the" great American novelist F. Scott Fitzgerald, Benjamin Button is a film that eloquently captures the magic and charm of Hollywood from times long past. It has a warmth, gentle humour and charm that is sorely missing from most of the sentimental slop that is produced these days and is truly stunning to look at. Brad Pitt gives a much softer edged performance than I thought he was capable of and is wonderfully supported by Cate Blanchett who perfectly captures the gradual maturity of age from self absorbed hedonist to rounded and worldly wise matriarch. The "life story" format draws obvious comparison to Forrest Gump, but that film is like Benjamin's inbred, trailer trash hick second cousin; this has a maturity and intelligence that is completely absent from that manipulative, greetings card poem of a movie. The length is an obvious issue but rather than self indulgent, I found it a very brave move on Fincher's part to produce such a ponderous and measured film in this climate obsessed with cheap thrills aimed at people with no attention span. In doing so, he has produced a beautifully crafted, genuinely moving and thought provoking film of the kind I have not seen in a long time.
Unnecessarily long. Sure, go ahead and say that I have a short attention span, but I just didn't care about many parts of the film. The idea is interesting and Brad Pitt does a fine job as the lead actor. Although, at times it feels like the film tries too hard to be a work of art. All those long drawn out scenes aren't artistic, they are boring. Not something I would watch again and definitely not Fincher's best work.
Eric Shankle
Super Reviewer
½
A beautiful epic that needs to be watched in one sitting.
The Curious Case of Benjamin Button Quotes
| | |
| --- | --- |
| Benjamin Button: | And I think, right there and then, she realized none of us is perfect forever. |
| | |
| --- | --- |
| Benjamin Button: | And I think, right there and then, she realized none of us is perfect forever. |
| | |
| --- | --- |
| Daisy: | Would you still love me if I were old and saggy? |
| Benjamin Button: | Would you still love me if I were young and had acne? When I'm afraid of what's under the stairs? Or if I end up wetting the bed? |
| | |
| --- | --- |
| Benjamin Button: | When the package was wrapped, the woman, who was back in the cab, was blocked by a delivery truck, all the while Daisy was gettin' dressed. The delivery truck pulled away and the taxi was able to move, while Daisy, last to be dressed, waited for one of her friends, who had broken a shoelace. While the taxi was stopped, waitin' for a traffic light, Daisy and her friend came out the back of the theater. And if only one thing had happened differently; if that shoelace hadn't broken; or that delivery truck had moved moments earlier; or that package had been wrapped and ready, because the girl hadn't broken up with her boyfriend; or that man had set his alarm and got up five minutes later; or that taxi driver hadn't stopped for a cup of coffee; or that woman had remembered her coat, and got into an earlier cab, Daisy and her friend would've crossed the street, and the taxi would've driven by. |