The Curse of Frankenstein
(1957)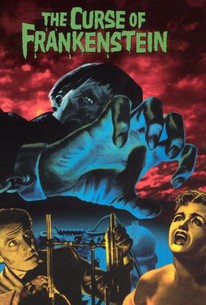 The Curse of Frankenstein Photos
Movie Info
In this re-telling of the classic horror tale, Baron Victor Frankenstein becomes friends with one of his teachers, Paul Krempe. At first, both men are fascinated by the potential of their re-animating experiments. Eventually, though, Krempe refuses to help with Frankenstien's human experiments. However, he is drawn back into the plot when Frankenstein's creature kills a member of the house staff.
Critic Reviews for The Curse of Frankenstein
Audience Reviews for The Curse of Frankenstein
½
Moving quite far from the original story in so many ways, this is a perfect example of a very loose Frankenstein adaptation that manages to be excellent on its own merits, with strong performances and an intelligent ending whose morality is subtly disturbing when you think about it.
Carlos Magalhães
Super Reviewer
½
This was the breakthrough film for now legendary British film studio Hammer. This was their first color film, and the first of their films that rebooted classic Universal horror franchises, starting with this slick retelling of Frankenstein. Set up as a flashback driven frame story we follow Baron Victor Frankenstein, an overly ambitious and truly mad scientist who takes it upon himself to play god. His experiments with bringing the dead back to life spiral out of control when his first reanimated human goes on a rampage. Hammer was practically forced (by threat of lawsuit) to make this as different as they could from Universal's Frankenstein. So they did it by shooting it in color, giving it some supremely awesome gothic touches, having a different looking creature, and favoring some more gruesome aesthetics, even though by today's standards they're pretty tame. Peter Cushing's portrayal of Frankenstein is also a lot more callous, cold-blooded, and evil...and it's a strong, memorable turn as well. Christopher Lee isn't quite as iconic as Karloff as the Creature, but, along with CUshing, this film nevertheless cemented them as Hammer's go-to actors for their various horror films. Director Terence Fisher does a really good job here, and I love the stylish gothic touches that he uses to enhance the mood and atmosphere. This film is admittedly a bit on the slower side, and is sometimes uneventful, but the build ups do lead to some nice payoffs, so it's not that big of a deal. Overall this is a fun and creative reboot, and it kicked off it's own lengthy series, so, if you want to see how the Brits brought their own unique touch to a classic, then give this a watch.
Chris Weber
Super Reviewer
Karloff may have delivered the seminal performance as Frankenstein's monster, but the Hammer horror films were always delectable revisionist versions of the Universal classics. Rather than a titular character with an obsessive tenacity for his experimentation, Cushing portrays Frankenstein as a deranged scientist who is so amoral he is willing to murder oblivious victims to gratify his perverse God complex . After a strong buildup where it is incontrovertible that Frankenstein won't heed his mentor Paul's advice about a "revolt of nature", the reveal of Lee as the malformed monster is extraordinarily spine-tingling. The explanation behind the grisly, cobbled amalgamation of the monster is pretty ingenious with the main framework being a hung man whose face has been savaged by crows (and therefore Frankenstein discards of the heinous visage). The gothic atmosphere looms over the film like an ominous cloud and with the advent of film colorization, the disjointed limbs and body accessories are truly galvanizing to behold in their visceral glory. 'The Curse of Frankenstein' is an intelligent, rococo and grandiloquent rendition of the Mary Shelley novel and it expertly psychoanalyzes the ceaseless inquisitiveness of scientists ("The problems with us scientists is we quickly tire of our discoveries.").
Cory Taylor
Super Reviewer
The Curse of Frankenstein Quotes
There are no approved quotes yet for this movie.