The Curse of the Cat People
(1945)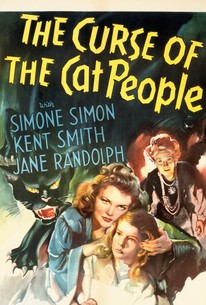 TOMATOMETER
AUDIENCE SCORE
Critic Consensus: Foregoing the horror thrills of its predecessor in favor of childhood fantasy, Curse of the Cat People is a touching and psychologically complex family film couched in a ghost story.
Movie Info
Officially a sequel to Val Lewton's psychological-horror classic Cat People (1942), Curse of the Cat People is in fact an engrossing and oftimes charming fantasy, told from a child's point of view. Six-year-old Ann Carter plays Amy Reed, the lonely daughter of eternally preoccupied Oliver Reed (Kent Smith). Amy's vivid imagination and inability to get along with her schoolmates leads Oliver to worry that the girl will start exhibiting the psychopathic tendencies of his long-deceased first wife Irena (Simone Simon), the obsessive "Cat Woman" in the earlier film. Oliver's second wife Alice (Jane Randolph) and Amy's sympathetic schoolteacher (Eve March) try to help, but Amy prefers the company of elderly Julia Farren (Julia Dean), a harmlessly crazy ex-actress who lives in a forbidding mansion with her neurotic daughter Barbara (Elizabeth Russell). Insanely jealous of Amy, Barbara ultimately tries to do the girl harm, but she is thwarted in this effort by the ghost of Irena, Amy's self-appointed guardian angel. Advertised as a horror picture, Curse of the Cat People has only one genuine "shock" scene; otherwise, the most frightening moment in the film is Julia Farren's spirited rendition of "The Midnight Ride of Paul Revere." Saddled with a lurid title, producer Lewton and screenwriter DeWitt Bodeen chose to offer a fascinating glimpse into the wonderfully boundless realm of a child's imagination, and in this respect the film is an unqualified success. ~ Hal Erickson, Rovi
Critic Reviews for The Curse of the Cat People
Audience Reviews for The Curse of the Cat People
A bad sequel, it doesn't have anything to do with the first one really, and it's silly. I don't recommend this movie.
The words "horrible sequel to a great movie" spring to mind when trying to describe Curse of the Cat People. Taking place several years after the original, Kent Smith and Jane Randolph have settled down in the suburbs, had a weird (mostly because Smith turned into a total dick) kid and generally gave up on life. The action (a word used very loosely) mostly follows said weird kid Amy who creates an imaginary friend in Simone Simon from the first Cat People and hangs out at the house of a nutty has-been actress in some kind of odd emotional struggle with her creepy yet foxy daughter. Robert Wise's (co-) directorial outing shows some real promise of what was to come from one of the world's most underrated directors with some really beautiful imagery in the back yard scenes. If you like child psychology mixed in with your suspense you're in for a real treat but otherwise its a completely pointless sequel. The good news is that The Curse of the Cat People will only eat a little over an hour of your time should you feel the overwhelming need to see it, but no matter what anyone says they should've let it go with the first.
Michael Gildea
Super Reviewer
Edward Boxler
Super Reviewer
The Curse of the Cat People Quotes
There are no approved quotes yet for this movie.