Curtains
(1983)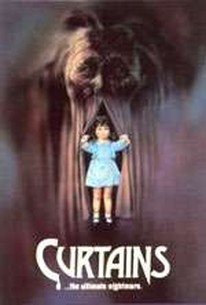 Movie Info
This derivative Canadian thriller plays like a distaff version of Samuel Fuller's cult classic Shock Corridor fused rather crudely to a standard mad-slasher plot. The story takes place primarily at the country villa of a sleazy horror film director (scenery-chomping John Vernon), where auditions for the title role of his new film Audra are taking place. The casting session is called after the film's intended star had herself committed to an asylum in order to properly research her Frances Farmer-type role, then found herself unable to get out. It comes as little surprise, then, that the six actresses vying for the plum role in her absence are not long for this world, as a witch-masked marauder is wandering the premises with some well-honed implements. This film's surprisingly stylish look is probably due to the initial direction of acclaimed cinematographer Richard Ciupka, but the film was actually completed by a pseudonymous replacement. (The credited director, "Jonathan Stryker," is actually the name of Vernon's character.) ~ Cavett Binion, Rovi
Critic Reviews for Curtains
Audience Reviews for Curtains
½
A thriller and a slasher horror movie. I enjoyed it. There are some really creepy scenes, and strange things that happen to confuse you about the killer. It's not a really great movie, but it's good for a lesser known slasher flick.
½
Wildly uneven 80's slasher with huge gaps in both logic and plot. The mask and the toilet scene however are to be commended.
A.D. Villarreal
Super Reviewer
½
Decent film with a somewhat cool killer, atmosphere, music, and the storyline that make it worth watching. .
Curtains Quotes
There are no approved quotes yet for this movie.