Custer of the West
(1967)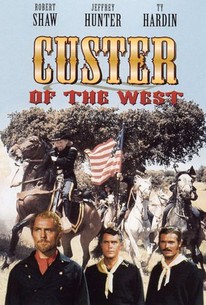 Movie Info
Robert Shaw plays General George Armstrong Custer in this historically inaccurate, low-budget western filmed in Spain. The storyline has Custer's troops backing the Cheyenne Indians into a position where attack is their only alternative. The Sioux were the actual tribe harassed by the real-life, glory seeking Custer. The inaccuracies continue as Custer is portrayed as a victim of government policy that is in dire need of reform. Mary Ure plays Libby Custer, with Jeffrey Hunter as Captain Benteen, Ty Hardin as General Reno, and Lawrence Tierney as General Sheridan. Robert Ryan plays Mulligan, an army deserter who is stricken with gold fever. Despite the fine cast assembled, the players can do little with the implausible script. The screenwriters were definitely remiss in their research of the subject matter, but when has that stopped anyone in Hollywood from making a film?
Critic Reviews for Custer of the West
Audience Reviews for Custer of the West
Sprawling, impressively shot but extremely over long, by about an hour, history revision. Shaw is good in the lead.
Custer of the West Quotes
There are no approved quotes yet for this movie.