Cut and Run
(1985)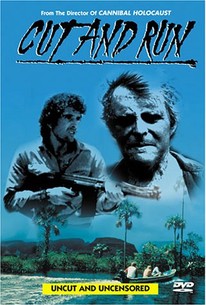 AUDIENCE SCORE
Critic Consensus: No consensus yet.
Movie Info
In this Italian adventure, the deadly drug manufacturing and export operation of a prominent South- American drug czar is discovered by an investigative TV news correspondent and her cameraman who went to the jungle to look into evidence that a notorious, corrupt colonel is still alive. While in the jungles, they encounter hostile natives and other typical dangers.
Critic Reviews for Cut and Run
All Critics (1) | Fresh (1) | Rotten (0) | DVD (1)
Deodato makes more statements about the media, the influence of the outside world on indigenous populations(/cultures), and still keeps up a high body count.
Audience Reviews for Cut and Run
½
Just watched this, and its my favourite Ruggero Deoadato film so far. The absence of anything too heinous was a good thing, apart from the first scene. Having said that, there was still a fearsome quantity of gore, turning the film into at times, a curious but hugely enjoyable action/splatter hybrid. It also worked in a few jungle movie tropes, to fun effect, as well as the mighty Michael Berryman as a vicious killer. He comes off even more ferocious than his turn in The Hills Have Eyes and he certainly kills more people. There's some nudity as well, although some of this is dead women unfortunately. The ending could of rounded things off a little more imaginatively and was not quite as spectacular as I expected, although far from bad. Still there were a number of memorable moments and I had a real blast watching this, thus I highly recommend it to any action or splatter fans
Cassandra Maples
Super Reviewer
Christ I remember 8 years ago when I lived down in "Fukuoka" and my friends were bored so we deice to rent something and something that looked good. And of course we landed on Cut and Run with that epic looking cover billing Michael Berryman (The Hills Have Eyes) as the lead villain. So far japan was the only country to have this movie Uncut so they dubbed in the "Hard Core version" (In terms of violence's) so of course we rented it. And the only thing I remember after 8 years is Michael Berryman flashing that Mug of his and how he is sticking people in the side of the neck. I just remember thinking it was so average and boring. Another thing I can remember is that Techno Music Playing at the airport screen with the opening credits. And of course after 8 years I just had to watch it again because of me being a fan of Deodato and me getting the box set with his 3 cannibal flicks. So in the South "America" somewhere there are a band of natives attacking and stealing drugs and destroying the facilities. And of course they are led by the Wildman Berryman, So a lady is backpacking drugs in Miami and a tough female reporter and her cameraman are investigating and only to find a bloodbath with the girl dead and the drugs missing but they do find a photo of their bosses "son". Who disappeared years ago so there "boss" wants them to find him and they travel to South America to find him. And of course there plane rans out of fuel and they fly down onto the runway with natives raiding the village nearby. So there goal is to find the bosses son and to escape with Natives and Drugs lords on their tail as they broadcast to the world what's happening in "South America". This is also the Last Part in Mr. Ruggero's Deodato cannibal "trilogy" First starting with Last Cannibal World and the famous Cannibal Holocaust and now Cut and Run. Deodato The story itself moves away from your average "cannibal" exploitation film and adds more action elements to it. I also find it funny that they bill Berryman as the main villain even though he rarely appears in it. If you see DVD, VHS, CD's, T-shirts, Merchandise, they all have him on it even though he is like only in it for 15 minutes overall. Overall the story is disgustingly violent but it's so boring it's just predictable. If you look closely at the start the passenger behind the drug packer keeps looking at the camera. And once again when they're going down the escalator. The best part about the movie is the Graphic intro (Not counting the Airport plane scene) Were the natives kill all the drug packers and rape the woman and stick large sticks into their legs and Berryman disembowels the girls with his machete. With that big ugly face of his no wonder people get put off by this flick. The airport opening credits is also one of the best parts the music does nothing but fits extremely well into them but overall the music is crap besides that scene. He should have never left the band Goblin. Besides some entertaining action scene and of violence it gets no more than a 50% but because I am in a good mood a 60%. I close this review and say watching it is up to you.
Ariuza koraw
Super Reviewer
½
Wow was I surprised by this movie I heard so Meany bad things about it, and there was a review for it not long ago in one of the magazines and they called it "really, really retarded". So I watched the trailer after seeing a major positive review from Jesse and I have to say it looked interesting and really good. So an Italian/American made action movie from the director of cannibal holocaust Ruggero Deodato [IMG]http://i54.tinypic.com/2nw239j.jpg[/IMG] In Columbia, there's a brutal drug war. When reporter Fran Hudson in Miami receives some information about a drug deal, she wants to make a story about it. When she arrives, she finds only finds a battlefield. But when she sees a photograph of a drug boss together with her boss's son, both believed to be dead, she sniffs a chance for another big story and, together with camera man Mark, heads towards Columbia. But once again Fran comes too late and finds the drug camp devastated by Indios, who killed all the drug dealers. However, there is one survivor, Ana. She tells them she knew Tommy, Fran's boss's son. They soon find out that Col. Horne, the drug boss Fran is after, is in control of an army of Indios with which he wants to bring the whole Columbian drug market under his control. I have to put this as much better as I thought it was going to be, its very well done in my opinion and it's a major mix of different things or genes. And I believe for its time we were the only country to have this uncut in the 80s until the DVD. This is also the last part in the cannibal trilogy starting with Last Cannibal World and then Cannibal Holocaust and then this. 100% for story: I just think extremely well done and something exciting for a film of its type. You are going to see a load of things that are action, scary, cool just all that. This is what i call an action movie with loads of violence. 90% for acting: The true and only negative part about the film and I see to put Michael Barrymore did a much better job playing his part. And as for the others there still good. 95% for special effects: There still really shocking and extremely good, the only way to like this movie is to see it fully uncut. Your going to see some very gruesome deaths by the assassin or the cannibals. 90% for characters: I think they are all very good but I think we could have known some more about a few but over very good. 100% for everything else: I truly see Ruggeros direction and the way he wanted it to go and as for everything else greatly and amazingly done. I would say by the end of this take a look it you're an action or horror fan but you don't need to be ether. Great action movie! Keiko's score 90-100
Cut and Run Quotes
There are no approved quotes yet for this movie.