Cyber Wars
(2006)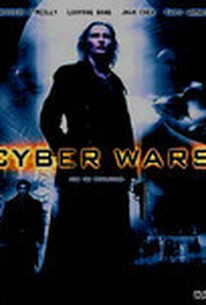 AUDIENCE SCORE
Critic Consensus: No consensus yet.
Movie Info
A collection of evil corporate conglomerates are using their powerful influence to play a deadly game with the citizens of a major metropolitan city, and upon discovering the diabolical scheme, a fearsome bounty hunter and a determined police detective find that beating the moneymen at their own game may cost them their lives in this futuristic thriller starring Joan Chen and David Warner. With thousands of lives on the line, including their own, the determined pair desperately attempt to beat the clock, dodge the bullet, and ensure that the white-collar madmen who set this deadly plan into motion pay for their heinous crimes against humanity. ~ Jason Buchanan, Rovi
Critic Reviews for Cyber Wars
There are no critic reviews yet for Cyber Wars. Keep checking Rotten Tomatoes for updates!
Audience Reviews for Cyber Wars
½
Considering how many hackneyed Blade Runner ripoffs have been pasted together throughout the years it's not particularly surprising that this film has so thoroughly slidden through the cracks. This specific genre of films is dying a lonely, painful death and for one to even get noticed anymore it has to be somewhere mega-budget... or else it's relegated to Sci-Fi Channel 'movie of the week' status. If it weren't for netflix instant and the fact that I couldn't find anything else to watch, I'd have never even heard of this; which is (sort of) a shame since it's genuinely not awful. Granted, it suffers from a dull, incomprehensible plot, a stupid title, uninspired soundtrack, and has some of the unavoidable, headache inducing "LOOK! It's the FUTURE! People wear bacon as earrings...IN THE FUTURE!" design elements. But nevertheless, what this film has going for it is a competent cast...a competent cast in a low-budget sci-fi film is like finding the holy grail in a dorm room mini-fridge. Genevieve O'Reilly plays a street smart blade runner, I mean head hunter, who tracks down stuff for people...I'm not quite sure what, but she's appealing, and more importantly, believable as the centerpiece for this future landscape. The supporting players also do a great deal to lend some credibility to this picture; David "Secret of the Ooze" Warner, Joan "Twin Peaks" Chen and William "J.F. Sebastian" Sanderson to name most, all contribute subtle performances...which says to me that they were either embarrassed to be in the film or were receiving stellar direction. Either way they avoid the great pitfall of "it's THE FUTURE! People have to be zany in THE FUTURE!" And finally, there are some rather nifty technological ideas. Ideas that seem somewhat exotic and are implemented without looking immediately dated, or that break the fragile suspension of disbelief. They just happen without explanation, which is usually a good thing in films like these. Most objects aren't uselessly clunky and a lot of design elements look (because of the budget) piecemealed from existing locations, giving a pleasing functionality to about 75 percent of the film's environment. That being said, this certainly isn't a "good" film, and maybe I just like it because it reminds me of "Overdrawn at the Memory Bank", but if you have even a remote interest in the genre you'll be pleasantly surprised for an hour and forty-two minutes.
Brett Warren
Super Reviewer
½
Cashing in on the Matrix franchise, this crime (drama?) has a bounty hunter track down a quintet of megacorporation owners who are forcing everyone to be pawns in a large game of their own devising... apparently. One has to take the characters word on this, because the entire "matrix" concept is barely fleshed out, only bandied about in the dialog to make everyone wake up and think they are watching a different film. An interesting concept with some solid sci-fi elements. It would be watchable, if the plot was at all coherent or consequential, or even remotely reflected what the characters were talking about at any particular point in the film. Throwing some interesting, if cliched, ideas into a trash pile doesn't disguise the mess.
Daniel Hetteix
Super Reviewer
Cyber Wars Quotes
There are no approved quotes yet for this movie.