Cyborg 2
(1993)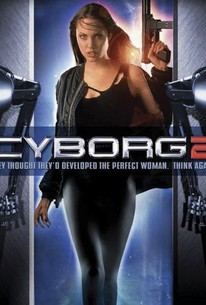 AUDIENCE SCORE
Critic Consensus: No consensus yet.
Movie Info
This sci-fi action drama is set on a future Earth where society has become dependent upon the labor of intelligent cyborgs. When one of the two major cyborg manufacturers begins programming their units to assassinate the competition's androids, a violent confrontation arises that threatens the very fabric of future civilization.
Critic Reviews for Cyborg 2
Audience Reviews for Cyborg 2
½
"Don't get dead." What a plump, rich, sweaty fecal meatball this is. Cyborg 2 was made in a time when Angelina Jolie was making movies and you would see her name in the credits and go, "who the hell is Angelina Jolie?" The few number of people who knew of her knew that she was terrible but it didn't matter because she wasn't famous. then people started to learn that she was Voight's kid and that she was bisexual and then it was like, "oh. wow. i guess i could see myself renting Cyborg 2." and incase you don't care for things that evolve from John Voight's cum but still like sci-fi actioners, this is a movie about an old bearded scientist who engineers fem-bots to explode right after a man "explodes" inside them. you can actually see this demonstrated once, in the first five minutes, so that will save you a whole 95 minutes of Angelina Jolie. personally, i feel fine giving this a star and a half for the fact that i felt really cool watching Elias Koteas chain-smoke 7 cigarettes under a red neon light.
Coxxie Mild Sauce
Super Reviewer
Wow this film is one of the worst films I've seen yet it has one of the best cast line ups I've seen haha a real mix of cult and crap in one lol The acting is in places terrible, really awful, but sometimes this is forgiven for some quite lovely corny lines and over the top cheese acting....all mainly courtesy of Jack Palance :) The other thing that's cool about this is a very young Angelina Jolie in skimpy outfits and kicking the ass of a never ending supply of cheaply dressed henchmen hehe it's a full on turd mobile but it does have afew very small OK little touches.
Phil Hubbs
Super Reviewer
"If you're gonna dine with the devil, schiiiiiiii, you'd better bring a looong spoon, nah!" If Jack Palance hadn't said this line, this movie would have absolute zero value.
Curtis Lilly
Super Reviewer
Cyborg 2 Quotes
There are no approved quotes yet for this movie.