Cyrano de Bergerac
(1950)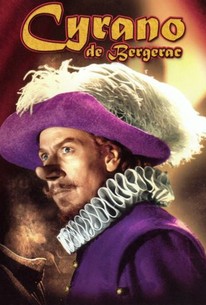 Cyrano de Bergerac Photos
Movie Info
Recreating his stage role, Jose Ferrer stars as Edmond Rostand's Cyrano, a 17th-century French cavalier, poet and swordsman whose prominent proboscis is the subject of many a duel. Cyrano is madly in love with the beautiful Roxanne (Mala Powers), but assumes that she'd never love him back due to his cathedral of a nose. Roxanne is also loved by the handsome Christian (William Prince), who unfortunately can't put two consecutive words together when it comes to pitching woo. Cyrano agrees to help Christian win Roxanne by feeding him the right words for his midnight courtships and love letters; in this way, Cyrano can vicariously express his own ardor for the fair lady. Years later, Cyrano's deception is revealed, and he dies happily in the arms of his beloved Roxanne, who realizes that she has really loved Cyrano all along--by way of Christian. Cyrano de Bergerac wasn't seen by many paying moviegoers upon its original showing, but its relative box-office failure resulted in an early release to television, where it has remained a perennial attraction for the past forty years.
Critic Reviews for Cyrano de Bergerac
Audience Reviews for Cyrano de Bergerac
While this limited production creatively hides many associated flaws due to its lack of funding it cannot disguise, ironically, the big mouth of the unsympathetic center whose long winded rambles have passed the style of the day. Cyrano's poetry is undeniable, but I secretly rooted for someone, anyone, to shut his babblings. For me the failure was to somehow get me to care about the braggart, and that didn't happen. The technique, admirable, but when Cyrano cried I thought "good".
Kevin M. Williams
Super Reviewer
Jose Ferrer's version of Cyrano misses the mark. A fact that becomes all the more obvious when you compare it to the Depardieu version of the 80s. Cyrano is arrogance with no heart.
John Ballantine
Super Reviewer
A poetic aristocrat with a large nose helps a pretty boy dolt win the heart of the woman they both love. The Rostand play of the same name is one of my favorites, and the conundrum of putting one's personal feelings aside for the good of others is a theme that resonates with me. While Jose Ferrer exquisitely captures Cyrano's eloquence and defensive arrogance, the deep-seated pain caused by the story's plot and his own insecurities are almost inscrutable and unexplored by the film. Overall, the source material is so good that it's almost impossible to screw this story up, but I think a more emotionally grounded performance that eclipses Cyrano's performative qualities would've made for a stronger interpretation.
Jim Hunter
Super Reviewer
Cyrano de Bergerac Quotes
| | |
| --- | --- |
| Cyrano de Bergerac: | '"No, no, my love; I did not love you."' |
| Cyrano de Bergerac: | No, no, my love; I did not love you. |