The D Train
(2015)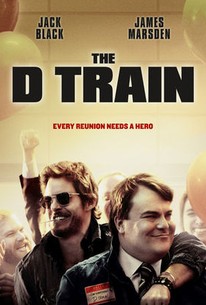 TOMATOMETER
AUDIENCE SCORE
Critic Consensus: The D Train offers Jack Black a too-rare opportunity to showcase his range, but its story and characters are too sloppily conceived to hold together as a film.
Movie Info
All his life, Dan Landsman (Jack Black) has never been the cool guy. That's about to change - if he can convince Oliver Lawless (Marsden), the most popular guy from his high school who's now the face of a national Banana Boat ad campaign, to show up with him to their class reunion. A man on a mission, Dan travels from Pittsburgh to LA and spins a web of lies to recruit Lawless. But he gets more than he bargains for as the unpredictable Lawless proceeds to take over his home, career, and entire life. Showcasing Jack Black and James Marsden's most intoxicating performances to date, D TRAIN serves up the question: how far would you go to be popular? Co-starring Kathryn Hahn and Jeffrey Tambor. (C) IFC
Critic Reviews for The D Train
Audience Reviews for The D Train
½
Jet black comedy drama with two standout performances and a hard R rating.
Daniel Parsons
Super Reviewer
The least awkward part of the movie was the gay sex.
The D Train is an odd movie. It's an interesting one, don't get me wrong, but it's an odd one for sure. I'm a rather faithful comedy fan and have said many times on this site before that I carried a rather rabid affinity for the fan appointed "Frat Pack" that originally consisted of Jack Black, Ben Stiller, Owen and Luke Wilson, Vince Vaughn and Will Ferrell. Any time any of these guys decided to head up a film there was a desperate hope they would include a couple of the others in the proceedings. Soon, Judd Apatow and his gang emerged and the universe has been expanding ever since. In the wake of this merger it always felt like Black was somewhat left behind. This was obviously unfortunate given Black is one of those guys who can make you laugh with a simple facial expression, but his output has become increasingly stale since hitting a high mark in 2008 with Tropic Thunder and Kung-Fu Panda. Looking back through his filmography it is almost alarming how little he has done in the past few years with his last out and out feature being the horribly marketed and little-seen The Big Year in 2011. With The D Train, Black seems to be making something of a statement in that, at the very least, he'd like to see his career go in a more mature way, one that puts him in the position of actually investing in his characters and developing his skills rather than simply cashing the quick check and making the same faces. We've seen this before from the comic, especially in the underrated Bernie, but here it is more of a concentrated effort than the seemingly haphazard way in which Black picked projects prior. read the whole review at www.reviewsfromabed.net
Philip Price
Super Reviewer
The D Train Quotes
There are no approved quotes yet for this movie.