Da lui toi (Gallants)
(2010)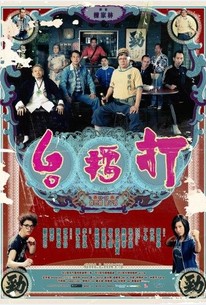 AUDIENCE SCORE
Critic Consensus: No consensus yet.
Da lui toi (Gallants) Photos
Movie Info
Two aging martial arts experts get back in the game after a three decade layoff in this mixture of action and comedy from the writing and directing team of Derek Kwok and Clement Cheng. Dragon (Chen Kuan-tai) and Tiger (Bruce Leung) were once kung fu masters who could defeat any opponent and were eager to serve their master (Teddy Robin), helping out as the school he founded. However, that was before the master fell into a coma; thirty years later, he's still lingering and Dragon and Tiger are still waiting for him to regain consciousness and tell them what to do, while they've turned the school into a tea house to make a living while he's out of commission. A less-than-scrupulous real estate agent is eager to buy out the shop, and they dispatch young but timid Cheung (Wong You-nam) to negotiate. However, Cheung ends up siding with the elderly kung fu champions when the master is accidentally roused from his coma by a blow to the head and insists on taking on Master Pong (Chan Wai-man), the devious proprietor of another martial arts academy. Da Lui Toi (aka Gallants) received its North American premiere at the 2010 New York Asian Film Festival.
Critic Reviews for Da lui toi (Gallants)
There are no critic reviews yet for Da lui toi (Gallants). Keep checking Rotten Tomatoes for updates!
Audience Reviews for Da lui toi (Gallants)
From the opening credits, it is obvious that this is a tribute to old-school kung fu films, of which I haven't seen nearly as many as I would probably want to, but you can obviously see that this film wears its influences on its sleeves. And I wouldn't even say that this provides that much of a memorable kung fu film, but I did have fun watching this. The action itself is nothing that would blow your mind, particularly considering some of the films I've seen recently. And that's not even taking into consideration the amazing Raid and Raid 2. If I compared this to that, it'd be like Mike Tyson, in his prime, fighting a 15-year old. It'd just be a heartless, graphic and cruel massacre. But, taken as its own movie, and not unfairly comparing it to superior and complex choreography, the action here is pretty good all things considered. Again seeing that it's meant as a tribute to older films, then the action being simpler is definitely consistent with that mindset. But, thankfully, I think the film makes up for the action not being out of this world by being energetic and just a fun film to watch. Particularly once the master gets out of the coma he has been in for 30 years. The master is pretty entertaining and goofy and his appearance leads to some of the film's funnier moments. The film does get a bit serious once the master dies, after he finally recovers his memory, and I don't think the film was as effective dramatically as it was in a more comedic manner. Though I do like how Tiger and Dragon, the only pupils who stuck by and took of care of their master for 30 years, have pretty much dedicated their entire adult lives to looking after this man that they clearly have a lot of love for. I do think that aspect of the film works very well, in telling a dramatic story, because they pretty much gave up everything. Having a wife, kids, etc. all to take care of the man who gave them a chance. But, other than that, once the master is out of the equation, the film does lose some of the spirit and life that it had. The movie is still fun, but it loses something. With that said, this isn't something that I would call particularly memorable, but I did enjoy the film. It offers an easy to digest kung fu experience.
Jesse Ortega
Super Reviewer
Sincere love letter to old school shaw bros flicks, some cliches here and there keep it from being better. Neverless, a lot of fun for any fan of the genre.
Tsubaki Sanjuro
Super Reviewer
½
Clement Sze-Kit Cheng and Chi-kin Kwok come together and deliver a lively action comedy in Gallants.
The story is straightforward, yet full of quirks that make the full 96 minutes easily enjoyable. As integral characters make their initial appearances, the cast to character introductions appear on screen. This tactic is consistent as it continues to happen well into the 40-50 minute mark. The film even employs some brief animation segments for the story, as well as for a few bone crunching impacts during the fights that look awesome.
Thanks to the dialogue and characters, the humor is extremely effective. There are a handful of places where the story gets dramatic, but these areas serve as moments of relaxation from the amusement of everything else.
The marital arts is fantastic and it comes from unexpected characters. If there is any flaw here, it is that there isn't enough of it; however, in the end this film is about the characters and not the action.
The acting is just as amusing as the characters themselves. Teddy Robin Kwan takes a while to make an appearance, but he is worth the wait. He steals every scene he is in as if he were the main character.
As a whole, Gallants has the comedy, the action, and the characters to make it a rewarding watch.
Da lui toi (Gallants) Quotes
There are no approved quotes yet for this movie.