Dad
(1989)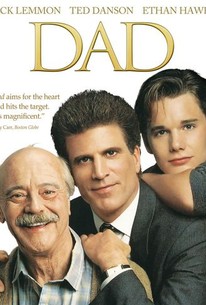 Movie Info
Looking like death warmed over, Jack Lemmon plays the aging father of Ted Danson. Always proud of being able to fend for himself, Lemmon despises being reliant upon others, but his enfeebled state does not allow him his old independence. For his part, Danson resents having to care for his dad as he would for an infant. Things take an upward turn when a "Doctor Feelgood" (Zakes Mokae) enters the scene, pumping Lemmon full of self-confidence. But then Lemmon is stricken with cancer, an affliction that he can't jolly himself out of. As the reality of his imminent death strikes everyone around him, Lemmon retreats into fantasy, recalling the past happy events of his life as though they're happening here and now. The rest of the family humors their dying dad, and in so doing draws closer together than they've been in years. TV sitcom maestro Gary David Goldberg co-produced and directed Dad, and also adapted the screenplay from the novel by William Wharton. ~ Hal Erickson, Rovi
Audience Reviews for Dad
½
I just watched this 1989 movie. How the heck I missed ever seeing it is beyond me. It was really, really good. I have never been a huge Ted Danson fan (other than Cheers days maybe), but he did a wonderful job..and so did the rest of the cast. I miss Jack Lemmon. He was one of my all time favorites. Too bad he's gone.
Cynthia S.
Super Reviewer
Dad was a great family drama, about how hard life could struck sometimes. It showed how in critical conditions of life we appreciate our family more. Ted Danson's character returned home to take care for his aging father, a role for Jack Lemmon.He was obsessed with his job and making money that he lost many precious moments of being with his parents, his son,and now he was faced with his dad;s illness and he tried to do all he can to help him out of this situation and spent as many times possible before he died.Ted Danson & Jack Lemmon played their role perfectly. It was great to see these 2 men of different generations trying to reach each other again.
Daisy Maduro
Super Reviewer
½
Tear jerker, run of the mill however, Jack Lemmon is the one to watch in this one.
Dad Quotes
There are no approved quotes yet for this movie.