Daddy Long Legs
(1919)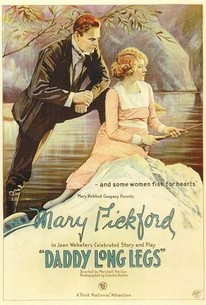 AUDIENCE SCORE
Critic Consensus: No consensus yet.
Movie Info
This first of several cinematic adaptations of the Jean Webster play +Daddy Long Legs stars "America's Sweetheart," Mary Pickford. The oldest and cutest of a group of orphans, Pickford is provided with funds for her education and well-being by a mysterious benefactor, whom she knows only as "Daddy Long Legs" because of the spider-like shadow he casts on the orphanage steps. Upon reaching a marriageable age, Pickford falls in love with handsome Mahlon Hamilton, never dreaming that he and Daddy Long Legs are one in the same. When he proposes marriage, she properly announces that she'll need her guardian's consent, and thus the stage is set for the film's conclusion. Like several of Mary Pickford's best silent films, Daddy Long Legs was remade in the talkie era by Shirley Temple (as 1935's Curly Top).
Critic Reviews for Daddy Long Legs
All Critics (2) | Top Critics (1) | Fresh (1) | Rotten (1)
Daddy Long-Legs was delicious as a story; delightful as a play, and is entrancing as a picture.
The silent film is of value only for historic purposes, as it doesn't carry well over to modern times.
Audience Reviews for Daddy Long Legs
½
I'm familiar with this story from working on a new stage musical version with only two actors. Jarvis is Jerusha's secret sponsor. She describes in songs and letters her life at the orphanage, the people she encounters at college, and her budding career as a writer. In this beautiful telling of Jean Webster's novel, Mary Pickford is Jerusha Abbott, nicknamed Judy. There is an extended metaphor of children being like flowers. Some are pampered and spoiled like Angelina Wycoff (Lemport). Some are born in trash heaps and must fight just to survive like Jerusha and the other children at the John Grier Home. The orphans are kept working and their treatment is compared to prisoners on a chain gang. Mrs. Lippett (Davenport), the matron of the orphanage, is compared to a cactus. Early in the story Pickford as Judy rallies the other orphans to go on a prune strike and ends up getting drunk with the younger Wesley Barry and a dog. A year or two pass and the kindly Miss Pritchard convinces another donor to pay Judy's way to college. Judy only sees his silhouette and dubs him Daddy-Long-Legs. She is told to write letters monthly to "John Smith" keeping him appraised of how her life is going. At college Judy rooms with Sallie McBride and Julia Pendleton, who both have aristocratic family histories. In a fantasy segment, the manager of an office of baby cupids decides it is time for Jerusha/Judy to fall in love. It is humorous when the one cupid describes that the love arrow went right through the intended target and stuck in a second man, thus starting a tricky love triangle. Jimmie McBride (Neilan, the director) is Sallie's brother. And Jarvis Pendleton (Hamilton) is Julia's uncle. Something always seems to get in the way of Jimmie spending quality time with Judy, so it is the mature Jarvis, who is perhaps 15 or 20 years older, who attracts Judy's attention. The ending doesn't feel resolved though as Jerusha discovers the shocker that Jarvis IS Daddy-Long-Legs. The title cards are well written and decorated with art. The performances from the entire cast are believable.
Byron Brubaker
Super Reviewer
Daddy Long Legs Quotes
There are no approved quotes yet for this movie.