Daddy's Home 2
(2017)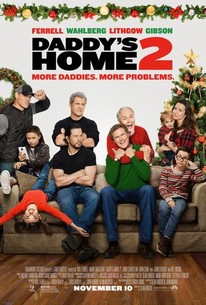 TOMATOMETER
AUDIENCE SCORE
Critic Consensus: A formulaic comedy that's unlikely to spread much yuletide merriment, Daddy's Home 2 can only muster a few stray yuks from its talented cast.
Movie Info
Dusty (Mark Wahlberg) and Brad (Will Ferrell) have joined forces to provide their kids with the perfect Christmas. Their newfound partnership is put to the test when Dusty's old-school, macho Dad (Mel Gibson) and Brad's ultra-affectionate and emotional Dad (John Lithgow) arrive just in time to throw the holiday into complete chaos.
News & Interviews for Daddy's Home 2
Critic Reviews for Daddy's Home 2
Audience Reviews for Daddy's Home 2
A wacky holiday family comedy, Daddy's Home 2 delivers some good laughs. When they discover that their daughter is unhappy about having two separate Christmases, Brad and Dusty decide to have one big Christmas with the whole family (parents and step-parents); but things get complicated when their own fathers decide to visit for the holidays. Mel Gibson and John Lithgow make for great additions to the cast and prove to have good comedic chemistry with Will Ferrell and Mark Wahlberg. And the humor mixes satire and physical comedy fairly well; though Ferrell's broad slapstick goes a little too far at times. Also, the plot is pretty formulaic and uses a lot of rather cliched tropes. Yet despite a few weaknesses, Daddy's Home 2 is an entertaining Christmas film.
Dann Michalski
Super Reviewer
I'm starting this review mere seconds after finishing and posting my Invasion of the Body Snatchers review on the sites that I frequent, so I may be running on fumes here. I fail to understand how Daddy's Home got a sequel first than The Other Guys, honestly. I suppose it's the fact that, maybe, the creative team behind that movie, mainly McKay and Ferrell, probably felt that they already accomplished their goals with the first movie and their parodying of action movie tropes and, maybe, they didn't wanna tarnish that movie's 'legacy'. Though, if I'm being fair, while I enjoyed The Other Guys, it's by no means a classic. But I'd still like to see those two characters come back in some form or fashion. The Daddy's Home creative team, however, doesn't seem to be as discerning and they're clearly going after the almighty dollar with this sequel. Look, I'll be honest, I didn't love the first Daddy's Home. It was decent enough, but it wasn't what I would call a good movie. Will Ferrell and Mark Wahlberg have proven comedic chemistry and that much is painfully obvious. But I think that chemistry is a little more present when they're allowed to be a little more off the cuff or, at the very least, have a strong script to work with. A script that highlights their strengths and hides their weaknesses. I don't think this 'franchise' is the best showcase for Mark and Will's chemistry. So, of course, this is the sequel we get. The thing about this movie is that there's no real inspiration behind it. It's just a continuation of the first movie in the worst possible way. Because, instead of it being just two dads at war with each other, as it was in the original, now you have MORE dads. Brad and Dusty's dad come to visit to spend time with their sons and grandchildren. Brad's dad is exactly as you would expect, a caring, sensitive man. And Dusty's dad is the typical and outdated macho ignoramus. At the very least, they chose someone you could believe would embody those ideals in Mel Gibson. I detest Gibson for what he's said in the past and, if he never got hired to act in or direct a film again, I wouldn't really mind or bat an eye, but he is a good enough actor and he does well in this type of role. Because, again, he's proven to be an ignorant asshole in the past, so it's a believable role for him to play. The film doesn't really follow any sort of actual narrative, it's just a series of little subplots that come together, just barely, to form a "story". I guess you could say the main 'thread' is that of Kurt, Dusty's father, stirring shit up between Brad and Dusty and questioning their decision to be co-dads and how Kurt doesn't approve of what he's doing. Jonah, Brad's father, is also battling with a secret that comes to be that he's divorced Brad's mom and he hasn't told him yet. Brad and Jonah share everything together and Brad sees these lies as some sort of betrayal. It's not much, but it is what it is. There's also some stuff involving Dusty's wife always writing in her notepad, Sara not wanting to be the obedient wife, Dusty's son having a crush on his stepsister, Dusty's stepdaughter not respecting him, walking all over him and I forget what else. There's not really much to go on here. Characters are just doing random stuff for no real reason just to fill out time. It tries to give off the vibe that it's all working to push towards Brad and Dusty hating each other again and disintegrating what they have built together. I guess you could make that argument, but there's no real structure or cohesion to any of what you're seeing on screen. As far as what I saw on-screen, however, I never felt this was quite as bad as Hot Tub Time Machine 2 was with its incredibly scattershot, skit-heavy approach, but it's not like this is much better. I feel like maybe the rating of 2 stars might be seen as a little too generous by some, but I didn't actually hate my time with the movie. I feel that, maybe deep, deep, VERY DEEP down, there's probably a solid little movie here. It's just that they didn't really put in the effort to create memorable characters, jokes or a coherent enough story to tie all of this nonsense together. There are some funny moments, like the whole thermostat scene is pretty good and, umm, that's all that I can really remember that actually got a laugh out of me. Maybe that's overstating the point, it was more like a chuckle, but that's an American dad stereotype. The climax itself, with the entire family singing 'Do They Know It's Christmas?' is so incredibly cringe-worthy. I realize that films aren't real life and most of these types of films don't reflect how real life actually is, but who came up with this idea and who thought it would actually be a great conclusion to this, but they are terrible at what they do and they should find any other job. I just felt that they felt that since this was a Christmas movie, they needed to have some sort of cheerful Christmas-y ending. Well, they certainly got their Christmas-y ending alright, only it was incredibly stupid. There really are so many things that are wrong with this movie, that I feel I've already gone over, and yet, somehow, I didn't come to actually hate this movie. I think casting helps a lot, all of these people are good at what they do and they try their best to make this work, it's just that the script is content to go for more broad jokes that appeal to the lowest common denominator (I don't mean this as an insult). It doesn't really try to be funny, it just goes for what is expected for this type of movie, which is easy, lazy slapstick. And, really, that's the worst crime of all, it doesn't have any real ambitions to be a funny movie, it just wants to cash in on a successful movie doing the least amount of work that is humanly possible. The cast seemed to have fun and that helps, a bit, but they're just let down by incredibly shoddy writing. I had no problem watching this and I still feel comfortable giving this 2 stars, but it's probably the worst two-star movie I've ever seen. If that somehow makes sense to you. Thank goodness for Prime Video, because I can't imagine how annoyed I'd have been if I had actually paid to see this.
Jesse Ortega
Super Reviewer
This is a dull and very boring film that never attempts to rise above the low standards of the first film. Ferrell has become a forced comedian, he just never looks at home in this film and the comedic moments are too predictable. The trailer has the best moments and work better than this film, the creative team behind the scenes are not comfortable with the material. Sean Anders has not transitioned comfortably to directing, the films are mostly mean spirited and unfunny. Sanders adopts some odd style of characters laughing at moments, when they aren't that funny. The glossy filmmaking style might look good but it means zero when you can't even muster a legitimate laugh with content. The cast is wasted and this is one film that did not need to be made, the characters don't evolve over the film, essentially robbing the film of anything resembling an arc. This is studio filmmaking 101 and needs to be abolished from todays films, there is no need for such a boring film to exist and it wastes the talents of each actor. I'm sure they were paid ridiculous amounts of money to be here but the target audience deserved more here, like the first film as well. This is bad filmmaking and not worth the viewing, any moment one of the actors is doing something, every crowd member watches in anticipation e.g. the first kiss. 17-02-2018.
Brendan O'Connor
Super Reviewer
Daddy's Home 2 Quotes
There are no approved quotes yet for this movie.