Dagon
(2001)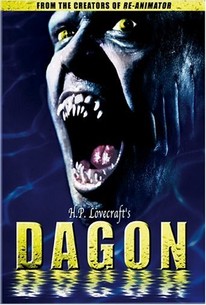 Movie Info
The nightmares of Paul Marsh (Ezra Godden), a successful businessman, are haunted by a mermaid that neither he nor his beautiful girlfriend, Barbara (Raquel Merono), can figure out. While on a boating vacation off the Spanish shore, a sudden storm sends their sailboat crashing into the rocks, causing Paul and Barbara to paddle to the nearby fishing village for help. But the village is inhabited by a race of people who are half-human/half-fish, and the time has come for them to sacrifice humans to their monstrous leader, Dagon. Not only that, but Paul's nightmares become horrifying reality when he encounters beautiful and passionate Uxia (Macarena Gomez), the mermaid of his visions, and boy does she have a surprise for him besides the double tentacles under her skirt.
Audience Reviews for Dagon
½
Of all the Lovecraft films, this is for some reason the easiest to remove from the Lovecraft mythos and just view as a relatively effective horror movie about fish people. Most of them tend to be an amalgamation of elements from many of his stories, rather than direct adaptations of just one, but this treatment of The Shadow Over Innsmouth seems to have the most consistent aesthetic byline; stormy, decrepit and sinister, Dagon's fishing village is a perfect stage for seaside cult hijinks. Stuart Gordon's abilities and deficiencies as a director have never been clearer, and for every shadowy shot or menacing maw full of teeth he successfully captures, he treats us to an equal amount of awful characters or poorly delivered lines. The protagonist and his girlfriend are both spectacularly unlikeable, doubly ruined by Gordon's inability to direct or frame his actors, which makes them seem like nothing but awkward fake douchebags. Some of the supporting performances aren't too awful, but much like Re-Animator, you won't be remembering the film for its characterization. The story also suffers from Suspiria Syndrome, not bothering to forward the narrative during any of the "horror segments" and instead lumping all of its exposition into one intolerable ten-minute flashback. Writer though he is clearly not, Gordon knows how to put together an entertaining movie, and between the waterlogged bits of gnarly imagery and some pretty nifty gore, Dagon is sure to be a suitable horror snack in between more significant films.
Drew Smith
Super Reviewer
Nothing special but recommendable!
This weirdo fish-out-of-water story turns the metaphor upside-down ... Gordon delivers suspenseful exposition and atmosphere, and schlock that keeps it real. The people here sacrifice themselves in a single choice: either remain human and die in fearful anguish, or worship another god and take on a whole way of being, one that looks monstrous from the human, mortal perspective. It looks like death too, inside a nightmare about Forever. But to the believers in Dagon it may be something else. In this movie, it's Eternal Fate that "is it's own place, and in itself can make a heaven of hell, a hell of heaven." A total downer, but a very philosophical one. And before I saw Raquel Mereno here, I didn't think that the supermodel kind of beauty could signify Life and the modest wish for human happiness.
Adam Mahler
Super Reviewer
Dagon Quotes
There are no approved quotes yet for this movie.