Dallas 362
(2005)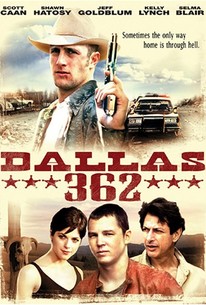 Movie Info
A pair of impulsive young men take different paths on the road to maturity in this drama, the first feature film from actor-turned-filmmaker Scott Caan. Rusty (Shawn Hatosy) and Dallas (Caan) are two buddies in their early twenties who live on the rundown underside of Los Angeles; they both have an appetite for alcohol and trouble, and would probably be in jail if it weren't for Rusty's understanding mother, Mary (Kelly Lynch). Mary is worried about her son, and when she begins dating an analyst, Bob (Jeff Goldblum), she persuades him to take Rusty on as a patient. As Rusty begins to work through the demons that have raged within him since the death of his father when he was a child, he begins putting his life on a more positive path. Dallas, however, is drawn deeper into a life of crime, and he wants Rusty to join him for a potentially risky job. Dallas 362 also features supporting performances from Marley Shelton, Selma Blair, Freddy Rodriguez, and Heavy D.
Critic Reviews for Dallas 362
Audience Reviews for Dallas 362
½
Interesting and funny movie. I loved how laid-back and casual the characters were. And it didn't hurt that I got to stare at Jeff Goldblum and Scott Caan shirtless =)
Remi Logan
Super Reviewer
½
[font=Century Gothic]"Dallas 362" is about best friends Rusty(Shawn Hatosy) and Dallas(Scott Caan). They have been best friends since Rusty moved to Los Angeles from Texas following the death of his father. Rusty's mother, Mary's(Kelly Lynch) sole occupation seems to be bailing the two pals out of jail after whatever altercation they have just gotten into. Mary is also dating a psychologist(Jeff Goldblum) who agrees to see her son on a professional basis. [/font] [font=Century Gothic]Admittedly "Dallas 362" does tread over familiar ground but it is well directed along with excellent performances and authentic looking settings. I especially liked that it handled the psychology sessions with a lack of irony unlike so many other programs and movies recently. This is not to say there is not humor here, there is. It is just used wisely.[/font]
Dallas 362 Quotes
There are no approved quotes yet for this movie.