Damage
(1992)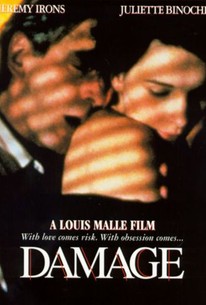 Movie Info
Adapted from Josephine Hart's spare novel by British screenwriter David Hare and French director Louis Malle, this brooding erotic drama concerns the obsessive sexual relationship between an English politician and his son's lover. Stephen Flemming (Jeremy Irons), an up-and-coming member of Parliament, has a beautiful and loving wife, Ingrid (Miranda Richardson), and two children, including son Martyn (Rupert Graves), a successsful journalist. Sparks fly, however, when Stephen meets beautiful art-world denizen Anna Barton (Juliette Binoche), Martyn's new girlfriend. A measured, seemingly passionless man who believes that life can be controlled, Stephen suddenly finds himself unable to resist brief but intense liaisons with the mysterious, melancholy Anna. Eventually she explains the palpable air of sadness that hangs over her: When she was 15, her beloved older brother committed suicide because he could not possess her. "Remember," Anna warns Stephen, "Damaged people are dangerous. They know they can survive." Drawn to Anna and the passion she engenders in him, Stephen tries to justify his betrayal by telling himself Martyn isn't serious about Anna; he is stunned, then, when the two announce their engagement. On the advice of Anna's mother (Leslie Caron), who sees right through the charade, Stephen tries to break things off. But soon the affair resumes with full force, eventually destroying several lives. Although Damage's stark, frank sex scenes were trimmed to attain an R rating for theatrical release, the original, uncut version is available on video and DVD. Richardson received an Oscar nomination for her work.
Critic Reviews for Damage
Audience Reviews for Damage
½
It attempted to be dark and haunting but in all it came off kind of sleepy and slow. I thought Irons was good but I've seen better work from Binoche.
Daniel Perry
Super Reviewer
½
I remember seeing Damage ages ago, but I'm not sure why I feel like reviewing it just now. Meh, there must be a reason for my remembering it after so long. I don't feel getting into the details of the story is enough to draw someone to the film because if it does, it might be for the wrong reasons... Every plot specification seems so small in comparison to the towering human drama unfolding. Damage is really about two people who, for whatever reason, just need something forbidden and hurtful to feel alive. It is as though their lives made them so unmotivated and sad that they need anything, even pain, to overcome that sadness. Jeremy Irons and Juliette Binoche's characters are forbidden to have a relationship, sexual or not, and yet they simply have to, against all circumstances, aware of the gigantic risks involved. Probably, both characters ask themselves, what do those risks even really mean? Would it really be so terrible? Regardless of the fact that in the end the consequences really do prove terrible, theirs is an understandable situation, if only from their points of view. Both characters seem, and are damaged for various reasons, and their salvation seems to be more damage. A collision of pain that only between them can become pleasure. It's exhausting to watch this film, I remember that. But it's beautiful because it portrays how vital intimacy and understanding between humans is, and how enriching it can be. I mean, what do we live off, how do we give our lives meaning without relationships? We need to communicate, to put in common our experiences and fears and desires in order to evolve and enrich ourselves. How it happens in Damage is sad and pathetic but it's still crucial. Miranda Richardson is great. She's just great. Juliette Binoche bothered me a little, but perhaps it was her incomprehensible character. Jeremy Irons, well, I can never say anything bad about him... here he is intense, damaged, and totally made stupid by his desperation. Just perfect. Finally... erotic yes. sexy, oh my god, no.
Another great movie by Louis Malle, Irons is great as always