Damien---Omen II
(1978)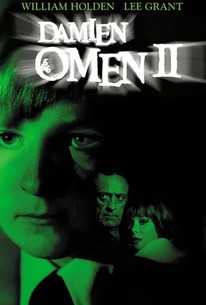 Movie Info
Satan's son comes of age in this horror sequel. Shortly after the events of The Omen, a pair of anthropologists uncovers an ancient crypt that depicts the face of the Antichrist -- that of Damien Thorn (Jonathan Scott-Taylor), recently orphaned scion of a wealthy industrialist. Before they can warn the world of the child's evil lineage, both men are buried under tons of rubble. Seven years later, 13-year-old Damien attends military school alongside his cousin, Mark (Lucas Donat), and spends lots of time with his adoptive parents, Uncle Richard (William Holden) and Aunt Ann (Lee Grant). After the boy's Great Aunt Marion (Sylvia Sidney) tries to convince the Thorns that Damien is a malevolent influence on Mark, she dies suddenly, and, unbeknownst to the family, horrifically. Ravens, it seems, are the harbingers of Damien's power, and in addition to Aunt Marion, they visit a long procession of characters who get too close to Damien's true identity. The most horrible death is suffered by Joan Hart (Elizabeth Shepherd), an investigative reporter who's digging into the boy's life; she gets flattened by a truck after having her eyes devoured by those menacing birds. Meanwhile, executive Paul Buher (Robert Foxworth) climbs the corporate ladder at Thorn Industries and takes young Damien under his devil-worshiping wings. Sgt. Neff (Lance Henriksen), one of the boy's instructors, also helps initiate Damien. As the pile of bodies gets bigger -- and closer -- Uncle Richard begins to suspect the truth, and, like his brother before him, plot the death of Damien. The existence of another sequel, 1981's The Final Conflict, gives a good indication of the outcome. Although Damien: Omen II is his only Hollywood feature credit, Scott-Taylor appeared frequently in the theater and on television; he once even portrayed Damien's arch-nemesis, Jesus, on-stage.
Critic Reviews for Damien---Omen II
Audience Reviews for Damien---Omen II
½
When a genre picture like 'The Exorcist' snagged most of the awards circuit in 1973, horror was then legitimized as a sought-after category for garnering praise. For my money, 'The Omen' is a spine-tingling, clammy-palmed peer alongside the preternatural exploits of The Exorcist'. Alas, as with most successes, more entries sounded like a viable proposition. Enter 'Damien: The Omen II', a gangly, monotonous disgrace which is distinguished for a litany of 'Final Destination'-style deaths. Instead of Gregory Peck, William Holden is the surrogate father of Damien and at times it appears as though he is sauntering through another movie entirely- a 'Silkwood'-esque potboiler about shareholder misconduct and capitalizing on an environmental crisis. Presumably, the movie is hinging on Damien's rite-of-passage into his demonic birthright. But, in execution, Damien is just an effete figurehead who is responsible for a rampage of giallo murders. It should be observed that all of these elaborately silly murders are cacophonous and unintentionally uproarious. A few examples are a doctor is vivisected by an elevator cable and a woman is pecked by crows until she is splattered by an oncoming tractor-trailer. The anticlimax is almost redeemed by a shrewd double-cross by a devout Satanist-in-hiding but it is too belated to rescue this misbegotten sequel.
Cory Taylor
Super Reviewer
Damien: Omen II is a mediocre sequel to a classic film. Created to cash in on the success of the first, this entry has a good idea for a plot, but it simply doesn't cut in the long run. The first half is good, but unfortunately is weakened by a second half. The film is mediocre at best, and it's a shame because the first Omen was such a memorable classic of the genre. This sequel is forgettable and doesn't possess what made the first film such a terrifying film. The attempts at horror fall flat, and it almost becomes unbearable. By the time the credits roll, you realize that Omen \II was a waste and that it could have been much better than this. The film lacks anything that would make this a memorable sequel, and it simply doesn't deliver the shocks and jolts that you'd expect from a film like this. This sequel wasn't entertaining, and the cast were bland, and didn't offer anything interesting that would make this film watchable. I thought that this film was a mediocre entry to a classic horror film. This film is forgettable, and like the other two sequels that followed, don't meet expectations. This film is the first of many disappointments in this series, and The Omen franchise would become one of the worst in horror history in my opinion. Aside from Richard Donner's The Omen, the sequels really don't match or exceed the original film, therefore there are no worthy sequels to The Omen. This film is mediocre with a poor script, acting and directing. Don't waste your time with this film.
A good sequel to the Omen, not as good as the first of course, but it's good. There are a lot of good horrific incidents that occur because of Damien, and the story is good too. If you liked the original don't hesitate to continue watching the series, the third and last film is even better than this one.
Damien---Omen II Quotes
There are no approved quotes yet for this movie.