The Damned Don't Cry
(1950)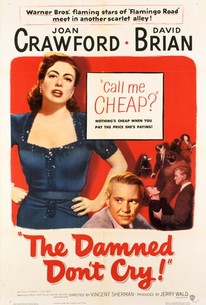 AUDIENCE SCORE
Critic Consensus: No consensus yet.
The Damned Don't Cry Photos
Movie Info
A woman's desire to rise above her drab lower-middle-class life takes her down the road to destruction in this gripping crime melodrama. The story opens as she cowers insider her old home, fearing the inevitable arrival of the murderous gangsters pursuing her. Her tragic tale unfolds via flashback.
Critic Reviews for The Damned Don't Cry
All Critics (4) | Top Critics (1) | Fresh (4) | Rotten (0) | DVD (1)
Like the star in question, this diva showcase knows what it is and what it's good at.

Joan Crawford gives a solid performance as the gangster's moll who discovers when it's too late that she took the wrong path.
Audience Reviews for The Damned Don't Cry
½
Not my favourite, but still pretty good. It did seem to me, as mentioned by another reviewer here, that she seemed a little old here for the part. That's the worst thing I could say. As always, very good acting and interesting story about a cold, calculating social climber (though she doesn't start out that way). Life drives her to it, I guess.
Nicki Marie
Super Reviewer
½
"the damned don't cry" is the ultimate epitome of joan crawford's irreconcilable womanhood in its hybridized maximum: ghetto mother's heart-aching tale as foreshadowing, then the brazen survivor attitude as she utters "the world is not for nice guys", and the flattering success proceeds afterwards, and eventually her social-climber dream crushes into irreparable ruin by backstabbing mobster feuds. inevitably, it has a moral message to be delivered: every sin has a price to be paid.

crawford this time begins as a affectionate mother in a poor family, striving to earn a living, heartbroken by her son's sudden demise after her stingy husband refuses to grant the boy a bicycle for christmas. (analogous to "mildred pierce") then crawford is determined to wrestle her way thru the city jungle, utilizing her sex appeal to pebble prominent men toward the top of the world. it's intertwined with gangster genre as crawford becomes the moll who tumbles over two mobster heads when one and another are keen to doublecross and eliminate each other.

"the damned don't cry" could be a closure for joan crawford's tough gun-posing dame image initiated by award-winning "mildred pierce". and also she gives another perfect interpretation of being "cheap and hard" but this time there's no agreeable ending for redemption or salvation as her character no longer slaps men or women around, and she even receives the rumination of being bludgeoned to bruises then rots in the gutter at last with a gun wound.

this is also crawford's final cooperation with director vincent sherman (whom she also had an affair with) and b-actor david brian, and crawford exploits her last draining potentialty at her golden period in 1940s, so there's nothing innovative she could really launch upon this genre until her revival in "sudden fear" and her tentative trial fir musical in "torch song". it is worth watching as a dirge of the 40s crawfordian icon, as its title suggests, the damned shall never cry but lives just like joan crawford wouldn't cease to re-invent herself in this merciless cinematic field with discriminative men.
Veronique Kwak
Super Reviewer
½
Being the Joan Crawford detractor that I am it would be easy for me to point out that this film was initially intended to feature a 19 year old actress, and that the part was rewritten at Miss Crawford's insistence. It would also be easy to highlight the lack of big name co-stars, leaving 'Joan Crawford' auspiciously large and unchallenged on all the promotional material. Yes, I could focus on all that AND the fact that she romanced the director off-camera, ensuring herself a level of control in all matters pertaining to the picture. But, for once, I'm above all that. Let me say instead that portraying a conniving, manipulative bitch intent on sleeping her way to the top wasn't really much of a stretch for the talented but manically egotistical Miss C. Oh by the way, The Damned Don't Cry is a VERY good film. :)
Randy Tippy
Super Reviewer
The Damned Don't Cry Quotes
There are no approved quotes yet for this movie.