Dance with a Stranger
(1985)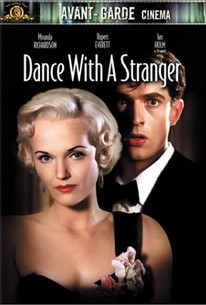 Movie Info
This darkly haunting slightly fictionalized film is a retelling of the life and death of Ruth Ellis (Miranda Richardson), the last woman to be executed in England. Ellis, a divorcee and ex-prostitute works as a "hostess" in a tacky nightclub. There she meets and begins an obsessive love affair with upper-class David Blakely (Rupert Everett), who eventually discards her. Still obsessed and jealous because of David's upcoming marriage to a woman of his own class, Ellis murders him. Miranda Richardson, in a stark, knock-out performance is outstanding as the cold, calculating Ellis, unscrupulous in her use of everyone to get what she wants. Ian Holm, in an often-overlooked performance, is superb as the man who loves Ellis, supporting her and her teenage son, without ever gaining her love. He is her mainstay and the surrogate father to her teenage son, who Ellis has little time for. In his own, quiet way he is as obsessed as Ellis. The screenplay, adapted by Shelagh Delaney remains faithful to the true story, taking only minor dramatic license. Dance With a Stranger is an uncompromising look at obsessive love and its consequences on others. The story is made even more poignant because of the sad life and eventual suicide of Ellis' real son.
Critic Reviews for Dance with a Stranger
Audience Reviews for Dance with a Stranger
Based on the story of Ruth Ellis - the last woman to be hanged in Britain. The film provides the tale of the build up toward her crime of passion. Miranda Richardson (possibly better known for her comedy roles) plays a great role here as a woman who doesn't suffer fools gladly and a fiesty, perhaps controversial character of her time and has a weakness in the man she loves. I am unaware of how factual this film is, but it made for entertaining viewing.
Lady D'arbanville
Super Reviewer
Good News/Bad News Good News: Miranda Richardson is incredible. Beyond her command of the character, which in itself is remarkable, is her sheer screen presence. To quote Steve Wiecking, she looks like a "delicious chilled confection". Bad News: The film has a BBC-made-for-television feel to it, especially the sound reproduction and score. Good News: The docudrama presentation lends itself well to detail and, as far as I can tell, historical accuracy. Ruth's debilitating codependency with her abusive and alcoholic beau is laid before us with excruciating clarity. Bad News: Except for a postscript reference, there are no details about Ruth's trial, incarceration, execution, or the impact it all had [if any] on public attitudes and perceptions. Dance With A Stranger delivers a detailed reenactment of a terminally dysfunctional relationship, but barely hints at the tragic consequences.
Randy Tippy
Super Reviewer
dark intriguing movie. miranda richardson is sensational.
Dance with a Stranger Quotes
There are no approved quotes yet for this movie.