Dance with Death
(1991)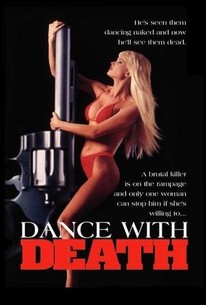 AUDIENCE SCORE
Critic Consensus: No consensus yet.
Movie Info
After several strippers are murdered, a reporter (Barbara Alyn Woods) goes undercover at a seedy club to unmask the killer.
Critic Reviews for Dance with Death
There are no critic reviews yet for Dance with Death. Keep checking Rotten Tomatoes for updates!
Audience Reviews for Dance with Death
To detractors who wonder if there is any merit to this film's existence, I have three words for you: Barbara. Alyn. Woods. This was among my first DTV (or direct-to-video) experiences, and while the plot is as bad as any of them, Dance With Death gets elevated far above its peers because of Barbara's class, her smile, and her breasts. Someone is killing strippers at the local titty bar, so naturally the only way to catch the criminal is for a female reporter to go undercover because hey, the police have better things to do, right? Many DTV movies use this outline, but Dance With Death is the only one starring a bona fide actress. Check out Barbara's resume: in addition to being a regular castmember on successful TV series One Tree Hill and Honey, I Shrunk the Kids over multiple seasons, she has appeared on Seinfeld, Wings, Dream On, Murder She Wrote, Picket Fences, Ally McBeal and on and on. You don't land roles on that many quality shows by being just a pretty face. That's how she's able to give her character Kelly more depth, which in turn makes her stripping scenes that much sexier. As in smoking hot!! And speaking of talent, as a bonus you also get a pre-Phoebe Lisa Kudrow with dark hair in a small role! (She doesn't strip, but she feigns the movements to encourage Kelly to remove her clothes during her audition which is pretty funny.) There's also Martin Mull as the hilariously heartless strip club owner and Michael McDonald as a perv years before his stint on Mad TV. In all honesty, beyond these factors this is pretty bad but earns extra nostalgia points. The script is OK but the pacing is stiff and has an ungodly long climax - this killer makes Michael Myers look like a quitter. Still, if you're like me you'll make lemonade and recognize the advantages of Miss BAW running around for an extra 10 minutes in a tiny blue dress.
Doctor Strangeblog
Super Reviewer
journalist goes undercover in a strip bar to figure out who's offing the ladies. it's kind of like herpes; a bad thing that stays with you longafter you watch it. laughable bad. if you catch it on cable one night and you have nothing else to do, or if you want to catch lisa kudrow in one of her earlier roles, have fun with it.
Cindy Caldwell
Super Reviewer
Dance with Death Quotes
There are no approved quotes yet for this movie.