Dancing at the Blue Iguana
(2000)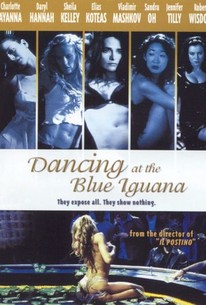 Movie Info
Interwoven stories about the various secrets kept by the women who 'bare it all' at Los Angeles strip clubs. The drama follows a range of issues from one woman's attempt to become a foster mother, to another's unplanned pregnancy--and ultimately their collective fight for survival.
Critic Reviews for Dancing at the Blue Iguana
Audience Reviews for Dancing at the Blue Iguana
½
It is mainly about five women who dance and make their living at a strip club called The Blue Iguana. The women seem to be looking for some kind of redemption of the sorts but I didn't find any or couldn't understand what was going on. Some of the women are shown as hysterical with no sense of self worth whatsoever and need to calm their nerves by indulging in alcohol and smoking ciggarettes. There is one girl who seems sort of straight played by Sandra Oh who loves going to poetry sessions and becomes attracted to a guy there. Daryl Hannah is the worst in this picture because her character is pretty depressing and lost. Im not really sure what made her take on a role like this but embarrassing nonetheless. Meg Tilly's performance is also a very sad let down. Michael Radford's film is a disappointment and maybe his picture would have worked if he just sat down and really worked on a polished screenplay instead of trying to do a Robert Altman improvasational ensemble piece. Maybe Paul Thomas Anderson could have made this a little more enjoyable. NOTE: Although I put down Darryl Hannah's perfomance her documentary "Strip Notes" is more gritty and fascinating then Radford's movie.
½
great boobs... dont watch for story
Coxxie Mild Sauce
Super Reviewer
This film gives a very poignant, truthful, insightful, and artistic look into the world of exotic dancing. Great performances by a talented ensemble cast. Definitely worth a look or two.
Chris Weber
Super Reviewer
Dancing at the Blue Iguana Quotes
There are no approved quotes yet for this movie.