Danger: Diabolik
(1968)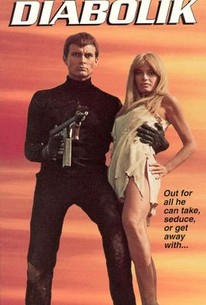 Movie Info
Diabolik (John Phillip Law) is the criminal mastermind who has just pulled off a huge heist. He spends most of his free time with his girlfriend, Eva (Marisa Mell), in fond embrace. The police minister (Terry-Thomas) is approached by Valmont (Adolfo Celi), a master criminal who proposes to use his underworld connections to catch Diabolik for the police. In between their gratuitous lovemaking, he and the exotic Eva are chased by police and the mob in this plodding crime drama.
Critic Reviews for Danger: Diabolik
Audience Reviews for Danger: Diabolik
Bava's direction is what truly makes D:D stand above other similar cinematic affairs. Morricone's super groovy soundtrack helps a lot too. A shame Adolfo Celi doesn't get as much screen time as he could.
Tsubaki Sanjuro
Super Reviewer
Not quite the campfest I expected. Mediocre, but worth a watch.
Tim Salmons
Super Reviewer
james bond meets the pink panther with a whole lot of sixties pop style. the weak script and cheesy acting don't keep this from being great fun. really cool score and groovy set designs but bava could make most anything look great! campy cult classic
Stella Dallas
Super Reviewer
Danger: Diabolik Quotes
There are no approved quotes yet for this movie.