Daniel
(1983)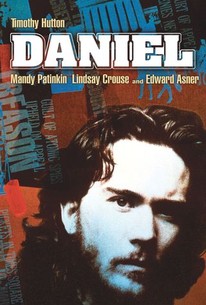 Movie Info
During the 1960s, two college-aged siblings attempt to deal with the shock when their parents are sentenced to death for anti-American espionage. This drama was based on E.L. Doctorow's novel The Book of Daniel, which was in turn inspired by the true story of Julius and Ethel Rosenberg.
Critic Reviews for Daniel
Audience Reviews for Daniel
One of the few underrated films of the early 1980's that went unnoticed. This one,among the rarest that a major studio release that enthusiastically portrays America's Old Left,though in this particular story,gloom naturally trumps the enthusiasm. Inspired by the controversial 1953 execution of Julius and Ethel Rosenberg for allegedly passing atomic bomb secrets to the Soviets,director Sidney Lumet's 1983 movie of E.L. Doctorow's fictionalized The Book of Daniel(screenplay by the author),deals primarity with the effect of family notoriety on children. One offspring(Amanda Plummer) is institutionalized,while the other(Timothy Hutton) is a less obvious head case prone to caustic outbursts. With powerful childhood flashbacks,an ill-received(which got mixed reviews for the critics at the height of its release) movie that Lumet,himself regarded as one his best as weathered a quarter-century well remains a bonafide 80's masterpiece of briliant cinema.
Mister Caple
Super Reviewer
[font=Century Gothic]In "Daniel," Paul Isaacson(Mandy Patinkin), a Communist in the 1930's, stands his ground at a protest against mounted police in New York City and meets Rochelle(Lindsay Crouse) who will become his wife. His activism will continue as he fights in World War II, raises a family and owns a radio repair shop. Years after the Isaacsons' execution, their grown children, Daniel(Timothy Hutton) and Susan(Amanda Plummer), argue constantly about their parents' legacy as their lives have gone in different directions. Susan is very much an activist in their parents' tradition while David is a married graduate student, father of a small child. That changes after his sister is institutionalized and he starts a quest to discover the truth about his parents.[/font] [font=Century Gothic][/font] [font=Century Gothic]Directed by Sidney Lumet, "Daniel" is a powerfully resonant movie that is open-ended enough to leave it up to the viewer to draw their own conclusions which might depend on their political orientation.(So, you probably know where I stand...) While a fictional recreation of the Julius and Ethel Rosenberg case told through the eyes of Daniel(giving the movie a personal depth while showing the effect even absent parents have on their children), there is also one historical incident cited, a concert Paul Robeson gave in upstate New York I read about in Howard Fast's autobiography, "Being Red," which simply depicts the intense amount of persecution in the 1950's and how brave it was to fight it.(In fact, Robeson is heard singing on the soundtrack on more than one occasion.) By jumping around in time, the movie does a great job of showing the parallels between the Old Left and the New Left, both of which were the vanguard of social activism in their day, serving as a needed reminder of why the left is so important today. And this is a movie that is activist in its own way by attacking the death penalty and showing how it has always been used against the lower classes. [/font]
Daniel Quotes
There are no approved quotes yet for this movie.