Daniel Boone, Trail Blazer
(1956)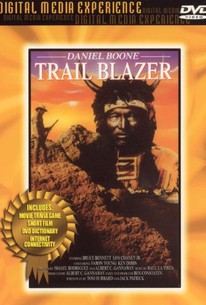 AUDIENCE SCORE
Critic Consensus: No consensus yet.
Daniel Boone, Trail Blazer Photos
Movie Info
Daniel Boone, Trail Blazer was lensed in the Trucolor process. Brice Bennett plays the titular 18th century frontiersman, carving out a home for himself, his family and his fellow settlers in the wilds of Kentucky. The climax finds Boone and company defending Fort Boonesborough from a Shawnee Indian attack, fomented by unhinged renegade Simon Girty (Kem Dibbs). Lon Chaney does the strong-and-silent bit as Shawnee chief Blackfish. Daniel Boone, Trail Blazer was filmed in its entirety in Mexico.
Critic Reviews for Daniel Boone, Trail Blazer
There are no critic reviews yet for Daniel Boone, Trail Blazer. Keep checking Rotten Tomatoes for updates!
Audience Reviews for Daniel Boone, Trail Blazer
I've never really been a fan of any movie or story featuring Daniel Boone. The stories all seem too far-fetched for a historical figure, and by the time they made Daniel Boone: Trailblazer, things were ridiculous. This was pretty boring and badly acted for the most part, except for when the war began with the Indians (btw, I'm calling them Indians because they called them Indians in the movie, so don't look at me funny for not being p.c.). That part of the movie started to get pretty funny, especially when Lon Chaney Jr. in red skin make-up was saying "White Man! Run!" I wish there had been more parts that funny because then I could recommend it as a funny bad movie, but mostly it's just boring, including the non-performance from Bruce Bennett who is best known as Tarzan. Not a lot of acting talent is required to play that kind of a role, and it's clear with this one that he didn't have any. It's also bizarre seeing Daniel Boone with blonde hair and without his trademark coonskin hat, which is how he's always portrayed. This is easily another skippable movie in the long list of skippable movies that make you sit there and wonder why they were even made.
Tim Salmons
Super Reviewer
Daniel Boone, Trail Blazer Quotes
There are no approved quotes yet for this movie.