Unleashed
(2005)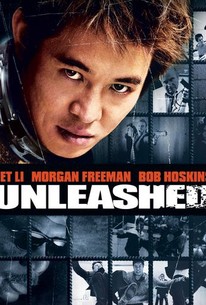 TOMATOMETER
AUDIENCE SCORE
Critic Consensus: Jet Li gets to emote in some emotionally awkward scenes, but the gritty fight sequences come through in what is Li's best English language film.
Movie Info
On and beneath the meanest streets of Glasgow, fiery gangster Bart is merciless with debtors, would-be rivals, and anyone else to whom he takes even a passing dislike. How does Bart maintain his chokehold? Through his unwitting enforcer Danny, who he has "raised" since boyhood. Danny has been kept as a near-prisoner by his "Uncle" Bart; trained to attack and, if necessary, kill. Danny knows little of life, except the brutal existence that Bart has so crudely and cruelly fashioned for him. But when Danny has a chance encounter with soft-spoken blind piano tuner Sam, he senses true kindness and compassion for the first time and experiences the transforming power of music. When a sudden gangland coup separates Danny from Bart and his mob, Danny is at last away from the underworld. He takes refuge with Sam and his spunky teenaged stepdaughter Victoria. Sam and Victoria open their home and hearts to Danny, who begins to envision a new future for himself. However, the mob will not give up its prize pupil so easily, and Danny must soon fight again, and fight back, to protect his new family and bury his troubled past.
Critic Reviews for Unleashed
Audience Reviews for Unleashed
½
Jet Li plays the son of a Chinese immigrant who is taken in by a London gangster at a young age and brought up as a kind of human attack dog, kept in a cage and trained only to fight. Upon finding himself free for the first time in his life after an attack by a rival mobster, he returns to the only person who ever showed him kindness, blind piano tuner Morgan Freeman; but the past inevitably catches up with him. Actually this rather unpromising and hokey sounding premise is easily the films greatest weakness. If you can look past it, you'll discover an extremely stylish and unusual thriller. The scenes between Li and Freeman's family have a genuine warmth and sincerity which never resorts to schmaltz, Li in particular bringing an innocence and pathos to his role. The direction is much more sophisticated than you would expect from an action film, and the East End gangland setting combined with the bursts of visceral violence is very reminiscent of Guy Ritchie's work. If anything, the fight scenes are amongst the least interesting parts of the film, the arena scene in particular is clumsy and unnecessary but Jet Li's athleticism and skill are always worth watching. A superior action film that's far from the usual dim-witted thuggery you'd expect from Hollywood.
"Unleashed" is definitely Jet Li's best English film. Man, are there some pretty awkward moments in this. The follow up to most of the fight scenes is very drab and very rarely does the drama actually have an impact, but the action fight sequences are incredibly satisfying. I liked the gritty cinematography also. Only one thing: why was there nudity in this movie? It was so unnecessary.
½
an excellent action film with solid fight sequences and a touching although bizarre story.