Dans Paris
(2007)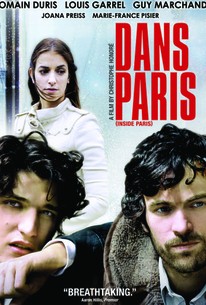 TOMATOMETER
AUDIENCE SCORE
Critic Consensus: Director Christophe Honore updates the pretensions and the charms of the French New Wave for Dans Paris, his poignant yet frustratingly dense film.
Movie Info
French sex symbols Romain Duris and Louis Garrel join screen icons Guy Marchand and Marie-France Pisier in writer-director Christophe Honoré's four-character chamber drama Dans Paris (Inside Paris). Duris plays Paul, a young man in his early thirties who splits with his girlfriend. Feeling depressed, he opts to move into a flat with his brother Jonathan (Garrel, who also narrates) and their father (Marchand). The ladykiller Jonathan slyly attempts to talk Paul into a shopping trip to lift his spirits, but ends up venturing out alone and engages in rendezvous with several women. Meanwhile, the boys' stylishly-dressed and gorgeous mother (Pisier) turns up and adds one more complexity to the network of relationships in the house. Honoré laces his drama with comedic touches and crafts the film in the gentle mode of early sixties French pictures by Truffaut, Godard and others.
Critic Reviews for Dans Paris
Audience Reviews for Dans Paris
Watching this is comparable to having a long sharp needle slowly going through your forehead for ninety minutes, but at least Louis Garrel is a breath of fresh air in this pretentious shot at a French New Wave film whose main character is insufferable (Honoré is no Godard).
Carlos Magalhães
Super Reviewer
I especially like how this film begins, and at the turning point near the middle when things really began to take shape and come together which makes it what it is; an enjoyable piece of French cinema that deals with two brothers trying to make sense of their lives, and a father trying to hold things together despite the darkness that's all so prevalent in his family's existence. The loss of the teenage sister and daughter to suicide clearly always looms over them, but the brothers carry on with their lives consisting of relationships with young women, and the father keeps his head just above water to make sure his sons stick together and help one another in times of need. The one brother's marriage ends, and is forced to live with his father in which he spends much of his time alone and sleeping, becomes a possible suicide risk, and falls into far from what his ladie's man lifestyle was prior to his failed marriage. It's interesting how director Christophe Honore is able to catch certain moods with his choices of song and beautiful cinematography, and how he uses a telephone conversation with singing rather than dialogue which seems to show more of a connection between the characters involved. It's also interesting how the film comes full circle, shows how vital it is to be able to pull the good out of the bad, what the most important things in life are, and how we never know what's going to happen in our next moments.
½
[font=Century Gothic]A tourist and a native look at the same city in radically different ways. A native knows the hidden secrets of a city and can find his way around well. A tourist is just interested in landmarks and cannot navigate without them such as the Eiffel Tower which is how "Dans Paris", a lugubrious and obvious movie where the characters stand exposed both physically and mentally, starts. After that particular cliched image, the next moment, inspired by the French New Wave, is just as unoriginal as Jonathan(Louis Garrel) addresses the camera directly to introduce a tangent off the main story.[/font] [font=Century Gothic][/font] [font=Century Gothic]Months previously, Jonathan's brother Paul(Romain Duris), a photographer, is living in the country with his girlfriend Anna(Joana Preiss), a model, and her son, Loup(Lou Rambert-Preiss).(Why do men always get to be the photographers while women have to settle for being the models?) In Paris in the present on December 23, neither Paul or Jonathan can take of himself and both live with their father(Guy Marchand). Paul is suffering from depression(which is understanble since this is during the holidays) while Jonathan lives totally carefree, getting in at all hours of the night. Apparently, he also has more sex appeal than James Bond. Is it just me or does there seem to be a bit of male chauvinism in evidence in the writing of this mediocre film? [/font]
Dans Paris Quotes
There are no approved quotes yet for this movie.