Dante's Peak
(1997)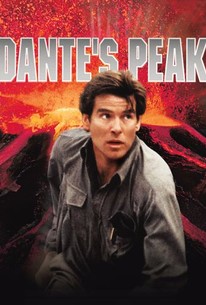 Movie Info
Disaster follows when a long-dormant volcano suddenly reawakens. When strange things begin to happen around the peaceful town of Dante's Peak, noted vulcanologist Harry Dalton is sent to investigate. Harry's investigation leads him to believe that a volcanic catastrophe is imminent, although his disbelieving superior refuses to warn the townsfolk.
News & Interviews for Dante's Peak
Critic Reviews for Dante's Peak
Audience Reviews for Dante's Peak
There seemed to be a few disaster films in the 90's, there also seemed to be a trend for making identical films, this was the first for the double dose of volcanoes. Now lets be honest here, there is a standard setup for disaster films which is usually always followed and somehow keeps on working. In this case we have Brosnan being the science boff who no one believes when he fears a volcano may erupt next to the sleepy mountain town of Dante's Peak. From the very start its a waiting game, waiting for the fun to start when the mountain blows. The easy plot builds up many characters so we get to know them plus links to other folk so when it all kicks off we feel the emotion run deep. Its simple building block film making basically and this film actually does it well with likeable characters all the way through. I must admit Brosnan is pretty good here, never really liked him before but his calm heroic demeanor is very soothing amidst all the terror and tension, I really wanted him to survive with the woman and kids. The other things that impress about this film is how realistic it actually is and how well they handle all the effects and action. At no point was I ever thinking how shoddy the film looked or how cheesy it was. All the acting was really very good with some genuinely tear jerking moments of emotion and pretty much all the volcano eruption special effects were excellent. In fact during almost every sequence of rock spurting action I was impressed by the effects which also included some good model work and good matte paintings of the mountain. Most definitely a more realistic route for this particular slice of volcano drama, pretty accurate with volcano facts offering a good education really. The whole thing builds well and gives plenty of time for everything to come to a climax nicely, no rush and no fuss with obvious care and attention to all areas. A highly recommended natural disaster that has it all including the obligatory dog to really heighten your angst and wetten your hankie when the lava flows. (This film also includes the infamous 'Wilhelm scream' which is a kooky hokey scream sound effect used hundreds of times in various films. Google it and you will see what I mean and recognise I'm sure.)
Phil Hubbs
Super Reviewer
½
Harry Dalton: I've always been better at feeling out volcanoes than people and politics.  "Whatever you do, don't look back." If you watch Dante's Peak, you'll be struck by lackluster acting, terribly written characters, and poor dialogue. But it's a disaster movie, so you can't judge it on just those weaknesses. Movies like this don't get made for their cinematic value; they get made for big special effects and big action sequences. The movie may be stupid, and it is; maybe even more so then the average disaster movie, but it excels in cool action sequences and large destruction. So all in all, it isn't nearly as bad as everyone says and it actually is a decent amount of fun. Harry Dalton arrives in Dante's Peak(number two on the list of most desirable places to live, population under 20,000) to look at a volcano that might be waking up. He immediately thinks it is going to blow soon, but his boss doesn't want to start a panic, so they wait and run tests. Well soon it's too late to evacuate properly and a bunch of earthquakes start devouring the town. Sufficient time is given to both the setup and the disaster. About half and half respectably.  While I still think the movie is a somewhat fun time, there's also a lot of annoyances that are hard to get over. I hated the Ruth character. I hated Linda Hamilton. I hated when the people would talk to each other. Other than that I liked it though. I can't rate this movie on the normal scale because it isn't a normal movie. I expect different things from different types of films and with Dante's Peak, I expected these annoyances.  Odds are, you will likely dislike this movie to some degree. I like it more than a lot of people, but still Roger Donaldson and company gives me enough to dislike also. If you like disaster movies, you might as well give this one a look; it's not like there's a bunch of great ones to watch instead. If you hate the genre, this film will only give you more ammo to use against it. 
Melvin White
Super Reviewer
One of two volcano flicks of this summer. This one was the good one. I liked the characters although they are very cookie cutter in how they are written and performed. I didn't mind that though as the film is not meant to be taken too seriously. It's a fun movie and a product of it's time.
Jason Spencer
Super Reviewer
Dante's Peak Quotes
| | |
| --- | --- |
| Harry Dalton: | When we get out of hereâ?¦ and we will get out of hereâ?¦what do you say we go down to Florida, we get ourselves a boat, and we stock it with all the nicest, yummiest thingsâ?¦we can possibly get our hands on, and we go out there and we catch ourselves a big, old, fat fish? |
| Harry Dalton: | When we get out of here and we will get out of hereâ?¦what do you say we go down to Florida, we get ourselves a boat, and we stock it with all the nicest, yummiest thingsâ?¦we can possibly get our hands on, and we go out there and we catch ourselves a big, old, fat fish? |
| Harry Dalton: | When we get out of here and we will get out of here. What do you say we go down to Florida, we get ourselves a boat, and we stock it with all the nicest, yummiest things we can possibly get our hands on, and we go out there and we catch ourselves a big, old, fat fish? |