Daphne
(2017)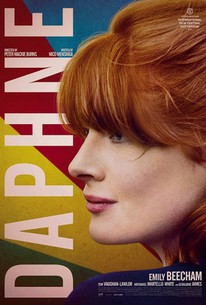 TOMATOMETER
AUDIENCE SCORE
Critic Consensus: Led by Emily Beecham's note-perfect performance, Daphne is a vivid portrait of a woman in flux - and an auspicious narrative debut for director Peter Mackie Burns.
Movie Info
'Daphne' is the vibrant character portrait of a young woman of the threshold of a much-needed change.
News & Interviews for Daphne
Critic Reviews for Daphne
Audience Reviews for Daphne
I expected to find some kind of affinity with Daphne, based on the logline. Her situation sounded similar to where I am at in life. Not only was that not the case (totally acceptable), the only thing I did feel was bored (not acceptable).
½
Imagine a rom-com written by Slavoj Zizek. I know, it's difficult, but aside from the heavy Zizek name-dropping at the start of it, Daphne is a sad, funny, neurotic, and brutally honest take on love (or lack thereof) in the post-Reaganomics western world. Our heroine, Daphne, is played by a Natasha Kinski-meets-Bryce Dallas Howard debutante (and so much more): Emily Beecham. This too-smart-for-her-own-good boozer/line cook isn't even trying to deal with her problems. She is a train wreck, and I don't mean a burnt-out sorority girl with a substance abuse problem and a dirty mouth a la Amy Schumer. Daphne has peered past the veil of reality to gaze upon the disillusionment of everything held sacred by traditional society and decided to wallow in self-destructive hedonism. Think of a young, well-read Jerri Blank who never turned to petty crime. In this entrancing character study, Beecham knocks it out of the park with her charisma and pathos. Every time you think the scene will end in some saccharine too-good-to-be-true chick flick "aww", you just get pummeled with another cynical emotional shutdown. For some reason, it hurts but it feels sooo refreshing. Daphne, in all of her chaos, controls the conversation, and for anyone looking for a guttural guffaw from the wretched depths of their soul, there are a few moments that might bring those rarely indulged demons to light. Add to the darkness a few glimmers of indubitable wisdom, and I would say you have an all around excellent film in Peter Mackie Burns' Daphne.
K Nife Churchkey
Super Reviewer
Daphne Quotes
There are no approved quotes yet for this movie.