Dare
(2009)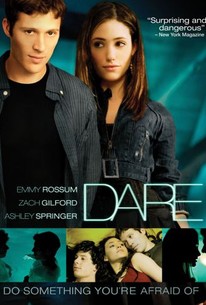 Movie Info
In high school, what kind of person did you dare to be: risk-taking and lustful, melancholy and confused or simply safe and over-achieving? "Dare" follows three very different teenagers through the last semester of high school. There are Alexa, the overachieving good girl who longs to break out of her shell; Ben, the melancholy outsider confused about his sexuality; and Johnny, the rich kid who has everything, including good looks, but hides behind his bad boy persona. This unlikely trio fall into each other's lives and each other's arms, making a last ditch effort to shake things up before they actually have to start living as adults.
News & Interviews for Dare
Audience Reviews for Dare
½
What a surprise! I knew nothing about this movie and watched based on my Netflix recommendation. For this movie, it was right on. It seems to be a typical teen drama but new twists are added that are interesting and make the movie unique and enjoyable.
Thomas Johnston
Super Reviewer
Cast: Emmy Rossum, Zach Gilford, Ashley Springer, Rooney Mara, Ana Gasteyer, Alan Cumming, Sandra Bernhard, Michael Cassidy, Cady Huffman, Brianne Berkson, Adam Fleming, Chris Riggi Director: Adam Salky Summary: In their final semester before graduation from an affluent suburban high school, good girl Alexa (Emmy Rossum), outcast Ben (Ashley Springer) and bad boy Johnny (Zach Gilford) decide to shed their youthful inhibitions and take some very grown-up risks. My Thoughts: "Although the story is interesting, the story doesn't leave you feeling like it's finished. I found Johnny Drake's character to be the much more interesting one of the three. He seems to be having some major issues and I'd liked to have known more of his story. I love Zach Gilford. I first saw him on 'Friday Night Lights'. He is a great actor and was great in the role of Johnny Drake. I feel like Alexa and Ben use Johnny to find out who they are. He is more of an experiment for them then a human being. When he becomes vulnerable in front of them, it seems it humanized him and they didn't know how to handle it. He was no longer seen as an object for their own needs anymore. It was interesting, and a different kind of teen angst film I thought I was in for. The film is sad, twisted, and unique considering it's not your average teen flick. Worth the watch."
♥˩ƳИИ ƜѲѲƉƧ♥
Super Reviewer
Dare really has a lot of potential genuis, but ultimately it falls flat. The film is incredibly scattered and really does not have any focus, and to top it off, all the characters and situations seemed really far fetched. In the begining we have good girl Alexa trying to "Do Something You're Afraid Of", but then that fliight gets lost in midair. Then, in the middle, we have Ben, and his story makes absolutely no sense at all, so we are not even going to discuss it. And I do not really remember it. Finally, we end with Zach Gilford's character (I'm sure he had a name, but I have also forgotten it) who, consequently, is sleeping with both Ben and Alexa. Lovely, isn't it? Idk, in closing, the film left me confused. There are many interesting ideas presented throughout the whole duration, but none of them are really expanded on. I have no idea what Adam Salky was actually trying to say. Is the film about breaking out of one's shell? Trying to find one's in the world? Or something simple, like everyone is essentially messed up, or three-way sex is not a good idea. In the hands of someone like Sam Mendes, I think Dare could be absolutely amazing, but as it is, it just is not that great. Still, I enjoy watching it enough, and it tries so very hard, and you've got to give it credit for that. One final note: It makes me so happy that Bon Voage's song "Monster" was used. I realize that is completely shallow and irrelevant, but I love the song. Seriously, now? "I wish I was a monster/ I would hide under your stairs / I wish I was a nightmare / I'd give you a scare"
Dare Quotes
There are no approved quotes yet for this movie.